Solving Tomorrow's Workforce Challenges
Solving Tomorrow's Workforce Challenges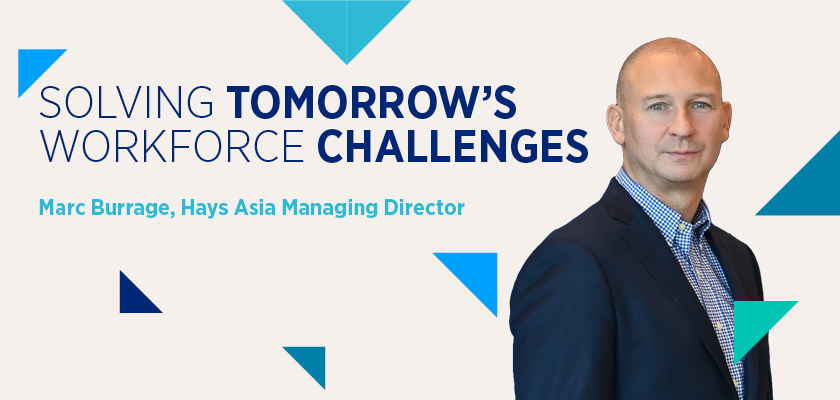 This July marks a significant moment not just in the Hays story, but my own story with Hays. As I step into my new role as Managing Director, Asia, I reflect on our new strapline and brand promise – Working for your tomorrow – and what it means for us as a business as we continue to lead the recruitment industry in Asia.

Much has been said about the changes we've undergone in the world of work. In fact, many of them, including accelerated digital transformation and the urgent need to better meet shifting customer priorities, were the driving forces behind the evolution of our Hays business, manifested as a refreshed Hays brand and repositioning that was unveiled earlier this month.
In the last few years, we've had to adjust to new ways of working, which in turn had a lasting impact on our relationship with and expectations of work. At the same time, socio, political and economic shifts have also increased the competitive pressures on organisations.
Organisations are facing new challenges in the form of growing shortages of talent with critical skills, as well as the need to create new job categories that meet new and emerging organisational needs, while enhancing customer experience. Additionally, they're also feeling a greater responsibility to upskill or reskill their workforces, as well as to manage higher wage inflation.
At the same time, candidates themselves are also feeling the pressure to progress in their careers at a pace they are comfortable with while balancing their work and home lives, amidst navigating the new constraints and freedoms that hybrid and remote working allows.
With people at the centre of all we do, the purpose that continually drives us forward has always been to empower businesses and professionals to succeed, and this mission is encapsulated in our new strapline, Working for your tomorrow.
So, how does this inform our approach to navigating the new world of work?
Creating curated experiences
Our customers in Asia have always looked to us to provide the access to the best people and the best jobs. However, the complex workforce issues they now face mean that we have the duty to go further and think beyond what we have always done, and to provide much needed clarity against a backdrop of a constantly changing landscape.
This means providing the data-driven insights that help businesses be more customer-centric and make better decisions faster, as well as offering candidates easy access to tools and expertise that can help them achieve their career ambitions. We're also optimising our approach to workforce recruitment with enterprise solutions, so we can be much better placed to help businesses and professionals find continued, sustainable success.
Investing in life-long partnerships
Being in the business of people, building partnerships is at the core of our business. Working for your tomorrow emphasises our commitment to developing long-term relationships with a range of organisations.
With professionals, this means being a true career advocate to candidates, facilitating learning and helping them to remain relevant. With organisations, this means providing a wider range of services focused on scalable workforce solutions alongside specialist recruitment, as well as making the effort to truly understand our client's business and company identities to fully support them from strategic planning to operational execution.
Weaving innovation into our DNA
Years' worth of innovation and change took place in the months following the pandemic. That speed of transformation now forms the framework for businesses looking to succeed in a rapidly evolving landscape.
With our repositioning, what's critical to me is prioritising innovation and weaving it into the fabric of our Hays culture. This means building clear and consistent communication pathways with our customers while building robust processes that keep pace with changing or emerging needs. Internally, our approach is similar, where a set of core processes provides a coherent foundation on which creativity is enabled.
Working for your tomorrow isn't designed just for the world of work we're operating in today, but also what it will shape up to be in the future. As our new brand promise, it serves to bring our commitment to the fore, to helping our customers – you – seize opportunities and enabling you to be stronger tomorrow than today. I'm excited to see where this next chapter in the Hays journey brings us.
Related Blogs:
AUTHOR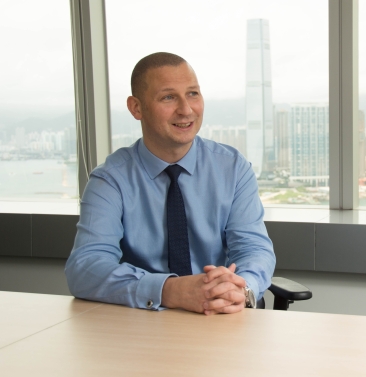 MARC BURRAGE
Regional Managing Director
Marc Burrage was appointed as Regional Managing Director for Hays Asia in 2022.
Marc joined Hays at the beginning of 2012 as Regional Director for Hong Kong. In 2014 he was asked to head up the Hays Talent Solutions business in Asia, before being appointed Managing Director for Hays Japan in 2015. In this role, Marc was responsible for the day-to-day operations and growth of the Japanese business across all specialisms, supplying permanent, executive search, temporary, contract and onsite solutions. In September 2019, Marc was appointed Managing Director of Hays Poland.
Marc has broad industry and functional expertise, with a proven track record of continued success and has led and grown businesses in the UK, Australia, New Zealand and Asia. Prior to working in the recruitment industry Marc held various sales and marketing management positions in the automotive industry. He has extensive business transformation and change management experience and is adept at building, developing and leading cross functional teams. Marc was a board member for the Leadership Institute of New Zealand and studied strategy at Ashridge International Business School.
Career Advice Promo block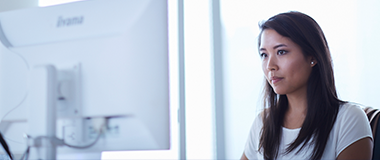 The job search / CV support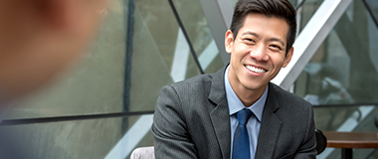 The job interview