The Inside Story of RPO in Japan (2019)
The Inside Story of RPO in Japan (2019)

It is no secret that Japan is one of the tightest labour markets in the world today, but not without reason. A rapidly ageing population has put the country's workforce at a disadvantage, with an estimated quarter of its breadwinners turning 75 or older by 2040. This has also contributed to the ongoing labour shortage in the country that is set to only get worse as ageing employees continue to leave the workforce. With unemployment at a 26-year low, Japanese companies are facing stiff competition for talent. While these factors have pushed the Japanese government to consider more forward-looking policies such as relaxing immigration, the journey to improvement will be a long and arduous one due to other precipitating factors such as lack of English speaking candidates and a largely inactive candidate market.
A combination of these factors along with high recruitment costs has led to Recruitment Process Outsourcing (RPO) becoming an increasingly popular option to Japan's complex and unique market needs. RPO is a service that enables employers to transfer all or part of their permanent recruitment and staffing supplier management to a trusted recruitment partner. Already a go-to solution in markets like the U.S., U.K. and Australia, the service is still in its infancy in Japan due to a lack of knowledge in the market. However, for organisations looking to significantly reduce costs and time to hire, as well as increase their team's efficiency, outsourcing may be the key to powering their productivity.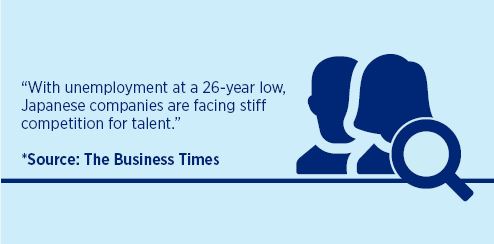 Market Overview: An immature but hopeful market for RPO
"The Japan recruiting landscape is extremely difficult for most organisations to navigate," says Bruno Marchand, Business Director for Hays Japan. "Part of this reason is the strong shortage in talent, where the working population is disproportionately small compared to the growing ageing population - a problem that is getting worse by the year. In Tokyo, we have more than two jobs available for every applicant. So, job seekers have a lot of choice."
A lack of English speaking candidates is also a major concern in Japan. A report by research firm Everest Group showed that the demand for candidates with bi-lingual proficiency in both Japanese and English is steadily increasing. "There is a low supply and high demand for English speaking talent, who are estimated to be less than 10 per cent of the workforce," says Bruno. "Considering Japan's reluctance towards hiring foreigners, even the talent pool of non-Japanese bilingual candidates is restricted to a small group already working in Japan."
Another challenge faced by organisations in Japan is the time taken to fill a particular role, as Bruno explains, "It takes an average of 90-110 days to fill a position. And 70 per cent of hires are sourced by recruitment agencies. This has resulted in a change in focus for internal acquisition teams who are now tasked with coordinating these agencies." This cycle of dependence on recruitment agencies has led to an exceedingly high cost of recruitment as well. "What many companies, especially foreign companies, are realising is that agency rates in Japan are about 35 per cent as compared to the rest of Asia or the U.S. and Europe where they are 20-25 per cent. It's a massive difference that impacts their recruitment budget," says Bruno.
RPO can significantly reduce these costs, as well as the time to hire, with customised and creative candidate sourcing solutions – making it a fitting solution for recruiting in Japan. While Everest Group reports that RPO in Japan has not yet reached the expected level of market penetration, it is projected to do so owing to the growth of global and local providers in the region. Currently, the hi-tech and telecom market is the biggest adopter of RPO services in Japan.
Volume businesses and cultural relevancy are important contributors to RPO success
While RPO can be an effective solution in any industry, most activity in Japan so far has been related to providing solutions for white collar, bilingual and corporate recruitment within financial services, IT, telecom, tech and automotive industries. "RPO services are most suitable and valuable for businesses needing a large volume of positions filled, say a minimum of 50 positions a year. This way, the responsibility, time, and specialisation required to achieve this will be handled, mitigated and applied by your RPO partner."
Consequently, the service is best suited to larger businesses and those that are expanding or growing, such as start-ups or companies opening new offices. Using the example of Hays Talent Solutions, Bruno recalls, "Last year, we began working with a global company that was looking to rapidly expand their business in Japan. Through the RPO solution we deployed for them, we were able to fill about 80% of their roles without using agencies – which was one of the key criteria given to us by the client. Their satisfaction led them to eventually roll our solution out globally."
This success was achieved through a combination of driving employee referrals, and a 'Find and Engage' methodology that seeks to overcome the challenges of an inactive candidate market. "Job ads don't work in Japan the way they do in other countries as the candidate market is more passive. Most locals do not apply through these and are not very active on platforms like LinkedIn either. This has encouraged us to be creative about our strategy to reach these candidates, such as using other social media channels like Instagram, Facebook and Twitter. The ability to devise innovative channels of sourcing candidates (who may or may not be actively looking), is crucial when selecting an RPO partner," says Bruno.
Supplementing the on-site recruitment team with a local sourcing centre focussed on direct sourcing was also key to this success. The Hays Talent Solution sourcing centre in Tokyo consists of a flexible team whose sole responsibility is generating candidate talent pools for current and future requirements – a crucial function for a market like Japan. As Bruno explains, "In a typical organisation, existing internal acquisition teams are usually extremely busy trying to recruit, or working with agencies, posting ads, checking job advertisements etc; they don't really have a lot of time or capability to source. Our sourcing centre can help them recruit directly instead of through an agency." Language, cultural understanding and local relevancy also play an important part in the success of a sourcing centre. "Many RPO providers have sourcing centres based in the Philippines or Malaysia; but our experience shows that locating strong bilingual Japanese speakers who can directly engage with the local candidate market is a significant advantage," says Bruno.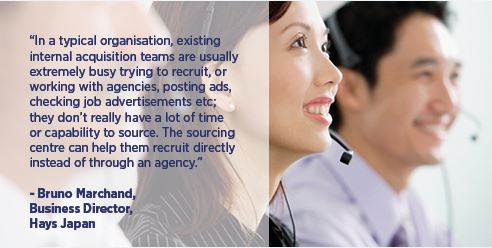 A promising future but more education needed
Despite its immaturity, Japan's RPO market has witnessed a good amount of activity from both regional and global buyers, Everest Group reports, as well as a rise in adoption from mid-market companies. Alongside IT and telecom, emerging markets such as retail, transportation, utilities, mining, and construction are also likely to see a huge demand for talent in the near future, making them ideal candidates for RPO solutions.
However, there is still much ground to cover before RPO can reach its full potential, as Bruno explains, "While outsourcing overall is starting to become more popular, the main challenge is the lack of knowledge in the market of the value that RPO solutions can bring. RPO provides a full tailored solution that can shoulder responsibility for the entire recruitment process and recruiting strategy. This means organisations don't have to worry about who gets assigned to what, or the nitty gritty of what it takes to make a project happen. The right RPO partner will have the capability to design and implement an RPO solution that addresses the key strategic talent acquisition challenges faced by each individual client."
While some organisations claim to understand the difference between RPO and staff augmentation, Bruno believes the difference is still mired in confusion, "Very often, clients struggle to understand the difference between a full RPO solution and a simple staff augmentation solution which is essentially providing a person or "a body" to help the existing recruitment team. RPO is different; it is about bringing the client on a long-term journey that begins with identifying the problems, implementing the right solutions and measuring success through outcomes."
As the market continues to mature and the RPO space continues to grow, Japan's labour market may look difficult for the time being, but the future remains promising.
If you would like to discuss this report in more depth or you wish to discuss your recruitment needs, please email Bruno Marchand at Bruno.Marchand@hays.co.jp
The Inside Story right promo block