The Inside Story of Manufacturing and Operations in Japan (2019)
The Inside Story of Manufacturing and Operations in Japan (2019)

It is a longstanding fact that the automotive industry in Japan is a global force to be reckoned with.
Think Japanese car brands and immediately familiar names like Toyota, Nissan, Honda, Subaru, Suzuki and Mercedes come to mind. These Japanese automotive brands are well-known and well-loved by consumers worldwide, translating into record-breaking production numbers according to a recent report by the Japan automobile Manufacturers Association.
As an unsurprising result, the total employment number in auto-manufacturing and related industries stand at 5.39 million persons, which is 8.3 per cent of the 65.30 million-strong workforce in Japan.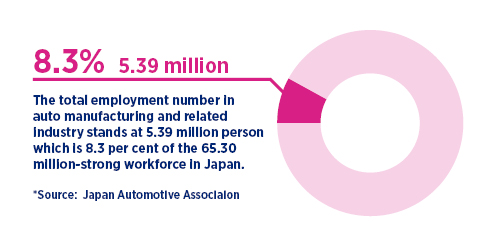 That said, with the rapid development of technologies affecting the manufacturing of automobiles, talent demand has been shifting correspondingly. As consumers demand cost and energy efficiency, on top of self-driving technologies, automakers find themselves in heated rivalry to deliver the next automotive breakthrough in the market.
This has led to a surge in demand for personnel in the manufacturing and operations functions in the automotive world. Some of the key roles which employers are industriously recruiting for include: Passenger Vehicle DAS Validation Engineers, System Engineers and Mechanical Engineers.
DUE TO THE TALENT SHORTAGE, ENGINEERS WHO MAY NOT HAVE AUTOMOTIVE M&O EXPERIENCE HAVE BEEN INCREASINGLY ACCEPTED
While candidates who possess technical skills, experience and relevant qualifications are highly sought after, hiring managers usually find that the ideal automotive M&O candidates usually have a good combination of hard and soft skills. These include strong analytical and communication skills, on top of strong independent reasoning and problem-solving skills/motivation with the capability of thinking proactively.
On top of that, while automotive employers have been increasingly receptive of hiring foreign talent, they would be discerning when it comes to their Japanese language abilities. As the day-to-day job requires high amounts of interaction with local customers, it is imperative that M&O talent are also aware of the cultural nuances and customs unique to typical Japanese workplaces. Bilingualism is, therefore, a very important skill for M&O talent to succeed in their roles, due to the need to work closely with stakeholders around the globe.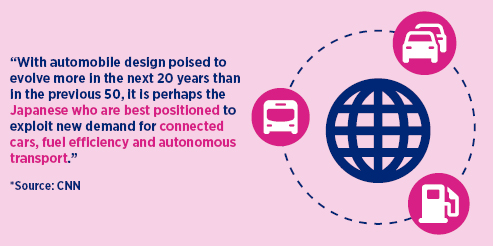 THE AUTOMOTIVE INDUSTRY TURNS TO D&I TO ADDRESS SKILL SHORTAGES
However, the shortage of local talent is posing a challenge to auto employers across the country. As reported by Bloomberg, the lack of fresh graduates or entry-level professionals will only exacerbate as the country's aging workforce reduces by 8 million.
At the same time, automotive M&O is a far less attractive career path to college students as opposed to other specialisms such as finance and software design. Consequently, to meet their talent needs, automakers have been keener on employing female talents as compared to historical norms.
The automotive industry in Japan is more progressive in the diversity and inclusion (D&I) space, as compared to employers across the country where despite the heightened awareness for the need to improve D&I, very few have been implementing practices, thereby leading to missed opportunities. This was apparent in the recent Hays Salary Guide that revealed that the already low percentage of women in management positions (22 per cent in 2018) has dropped to 19 per cent this year.
M&O CANDIDATES IN THE AUTOMOTIVE INDUSTRY CAN ENJOY LEVERAGE IN THE CURRENT EMPLOYMENT MARKET
Candidates are urged to take advantage of an employment market that favours them. Hays experts have noted that adroit M&O talent – regardless of their prior experience in the automotive industry – usually have multiple competitive offers presented to them. Other than a premium salary, they are in a good position to request for add-on benefits such as flexible work arrangements, health and medical provisions, pension and housing allowance.
To maintain their competitive edge, talent in the automotive industry should keep their eyes peeled for technological advancements in the industry, particularly machine learning. After all, as CNN has opined, "With automobile design poised to evolve more in the next 20 years than in the previous 50, it is perhaps the Japanese who are best positioned to exploit new demand for connected cars, fuel efficiency and autonomous transport."
If you would like to discuss this report in more depth or you wish to discuss your job search or recruitment needs, please email Hiroaki Takahashi, Manager (Manufacturing & Operations) at Hays Japan at Hiroaki.Takahashi@hays.co.jp.
The Inside Story right promo block