Driving Success through Talent: Kuehne+Nagel 's Comprehensive Approach to Recruitment, Diversity, and Digitalization
Driving Success through Talent: Kuehne+Nagel 's Comprehensive Approach to Recruitment, Diversity, and Digitalization

Insights from Cedric Dulong, President of Kuehne+Nagel Ltd. (Japan)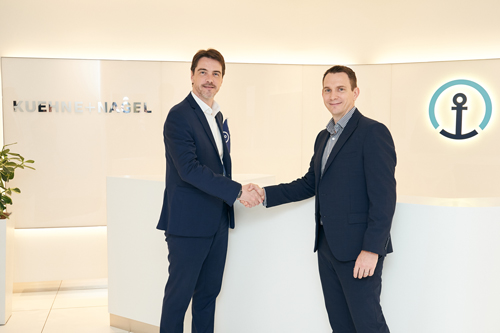 Kuehne+Nagel, a leader in global logistics, shapes the world of logistics with a strong determination to connect people and goods through innovative and sustainable logistics solutions. The company offers a wide range of services such as sea, air, road, and contract logistics.
Grant Torrens
, Managing Director at Hays Japan, asked
Cedric Dulong
, President at Kuehne+Nagel Ltd. (Japan), about talent acquisition in a market facing a shortage of skilled professionals, the significance of diversity, digitalization efforts, the skills they seek, their training and onboarding processes.
Recruitment Strategies for Market Dominance
Grant: You are the global market leader in the logistics industry.
Cedric: Indeed, Kuehne+Nagel is the number 1 in air and sea logistics globally. We also have strong market positions in road and contract logistics. We have been in Japan for more than 40 years and are expanding our activities and services with the aim to help Japanese companies expand their footprint in Japan and globally.
Grant: I understand your company is very keen on hiring some key positions. How do you see your current situation?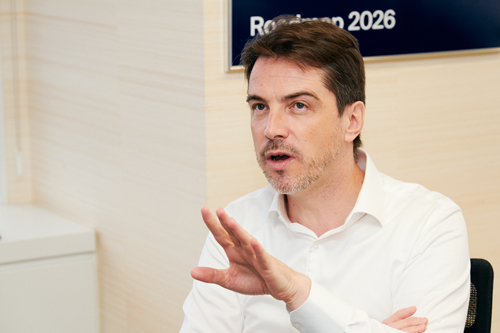 Cedric:
We are currently experiencing an exciting phase in our company's journey. Earlier this year, we unveiled our Roadmap 2026 and Vision 2030, marking a significant milestone. Specifically for our operations in Japan, we have charted a strategic course to expand our market presence and become the most trusted partner in the supply chain, dedicated to fostering a sustainable future. Living ESG is one of the four cornerstones in our Roadmap 2026. In addition to assisting our customers in achieving their environmental objectives and implementing economically viable and scalable decarbonisation solutions, this cornerstone also underscores our dedication to advancing society by promoting diversity, equity, and inclusion. This commitment is what makes us a more attractive employer.
As of August 2023, Kuehne+Nagel Japan is proud to have a team comprised of over 25 nationalities and diverse industry backgrounds. Drawing from my over two decades of leadership experience in the logistics sector, I've learned the importance of prioritising individuals with the right mindset and attitude over those with specific industry expertise. As a leader, I actively encourage my team to seek talented professionals, regardless of their prior industry experience, to join our ranks. With this mindset, we are confident that despite the current labour shortage in the Japanese market, we can attract these professionals to join us in our growth journey.
Working at Kuehne+Nagel offers a gratifying experience. Beyond our global environment and the opportunities for international assignments, our commitment to fostering a meaningful impact plays a crucial role in job contentment. I derive immense satisfaction from my work, and I am confident that those who become part of our team will echo this sentiment. To remain at the forefront of the industry, we consistently champion diversity and uphold a steadfast commitment to promoting individuals based on merit. This strategy is a testament to our dedication to cultivating a vibrant and inclusive work environment.
Grant: Many organizations froze their hiring during the COVID-19 pandemic. However, the market has now changed, and these organizations can recruit under better circumstances. In fact, it is tough to recruit in Japan for the reasons like "job for life" mentality. That kind of mentality is changing as you earlier mentioned; there are more companies promoting people based on merit.
Cedric: Yes, you are correct. In today's professional landscape, an increasing number of individuals are embracing a new perspective driven by a clear vision and purpose. Their objective is not merely to secure employment for life but also to achieve career satisfaction and success. Additionally, they often prioritise job satisfaction because they value work-life balance, personal fulfilment, and well-being. They seek careers that align with their interests, values, and passions rather than solely focusing on financial compensation or job security. The global pandemic has unquestionably demonstrated the logistics' critical role in saving lives and instilling one's job with a deep sense of purpose. This has had a beneficial effect on our hiring efforts. Over the last 18 months, we've noticed a growing interest among potential candidates in joining the logistics sector because of our capacity to impact society positively.
Grant:
Our consultants are organized into teams focused on specific industries or job functions. This specialization allows us to build a deep talent pool, ensuring that we provide the best service to our candidates and clients in areas facing talent shortages. The biggest thing that we can offer you is the network that we built through 250 consultants around Japan who spend their careers building up the really deep networks.
Every diversity matters
Cedric: Diversity is one of the key pillars for our growth. We currently have employees from 25 different nationalities as earlier mentioned, making us a truly international company. Besides nationality diversity, gender diversity is also a constant consideration for us. We believe that embracing diversity and inclusion in terms of cultural backgrounds, age, sexual orientation, and various other factors does make us stronger, smarter, and definitely bringing more fun at work.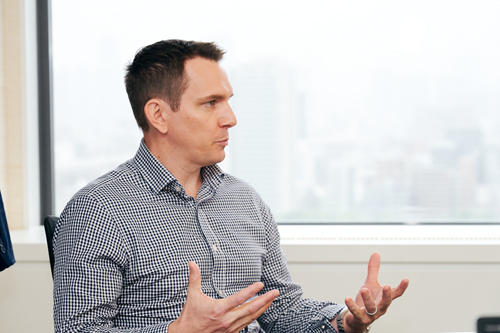 Grant:
Regarding diversity, is that at every level in your organization? For your management level, are there more Japanese or less Japanese?
Cedric:
Yes, there is diversity at every level within our organisation. The Japanese nationals represent 53% of our extended management team while foreign nationals made up the remaining 47%. One of my goals is to build the future management team with the next generation of Japanese nationals (as a majority), while still retaining foreign managers within the team.
Grant: Having gender diversity at that level is great.
Cedric:
Gender diversity, is, of course, something that we have in mind constantly. But that alone does not dictate our selection. The most qualified individuals secure the positions. Currently, our top management team in Japan comprises an equal representation of both genders, with 50% male and 50% female members.
Grant: I agree that when we do the recruitment, the best gets the position. We have to have different backgrounds, culture, ages, and everything else, so that is why it's very important. Besides, language plays a crucial role as well. I am not just referring to Japanese and English, but also the choice of words in job advertisements, which can influence the gender of applicants. Psychologically, the language used can attract specific individuals.
Cedric: When we recruit and engage in marketing and communication, we ensure that our approach is inclusive. In Japan, I still hear comments like, "Sorry, but this is Japan." There is no reason to resist changes simply because we are in Japan. We are gradually transforming our organisation and already see positive results. While gender diversity is the most easily recognisable form of diversity, there are various other dimensions, including age, nationality, disability and more. By fostering a positive employee experience across these diverse dimensions, we can truly fuel our growth.
Everything around digitalization
Grant: I noticed that your office has impressive technology – I do not see any desk phones, so I assume you use cloud telephony?
Cedric:
When I moved here two and a half years ago, a colleague asked me to sign some documents. One of my first decisions was to reduce paper usage as much as possible. While some documents still require signatures, we made it a policy to digitise all internal documents. Another example involves the removal of traditional physical envelopes. I spearheaded the e-invoicing project, which commenced in March 2021, when only 12% of our invoices were electronic. We faced a significant challenge. As president, I communicated this transition to our customers. By December, the adoption rate for e-invoices had surged to 96%. Similarly, we also decided to phase out desk phones.
Grant:
Very impressive progress! At Hays Japan, we are going through a quite similar process. We sent an email instructing everyone to pack up their desk phones for disposal. It has been a two-year project.
Cedric:
We continue to make progress in our digital transformation. In addition to discontinuing the use of desk phones, we have introduced a self-service digital reception system for our office. When visitors arrive at our office, they can easily enter the information of their Kuehne+Nagel host. The system will promptly notify our employee, who will also have video access to the reception area. Our most recent decision concerns fax and printing equipment. We are actively reducing the use of these machines by 70% and introducing a printer management solution that provides extensive insights on how to reduce paper consumption in the long run. Most importantly, this method allows us to print and retrieve our documents at any time.
Grant: I think that is the right thing to do. At Hays every year, we conduct a survey to explore trends among candidates and clients. One of the reasons candidates choose to join an organization is the ability to embrace new technologies. From a digital and sustainability perspective, it is highly appealing to candidates to see organizations prepared for the future.
Key differentiators that make Kuehne+Nagel stand out
Grant: Besides digitalization and diversity, what other aspects do you emphasize to candidates?
Cedric: As previously said, having the right mentality and mindset, often known as the entrepreneurial spirit, is extremely important. Our organisation framework is built on a matrix structure, consciously designed to prevent siloed thinking, and foster a collaborative approach. Kayoko, our Human Resources General Manager, once shared her first-hand experience at Kuehne+Nagel: "I've never encountered a company that offers such abundant opportunities for cross-functional, cross-divisional, and cross-regional learning until I joined Kuehne+Nagel a few months ago. During this time, I've had the privilege of travelling to various countries for regional meetings, absorbing invaluable knowledge and expanding my professional network," Kayoko remarked. She went on to emphasise, "What's truly remarkable is that these learning opportunities extend even to colleagues working in functional units within the back office."

At Kuehne+Nagel, we actively promote international internal transfers as a key element of career development. A few of our Japanese colleagues have relocated to other parts of Asia Pacific to take on different positions. This is one of the most attractive aspects for talented professionals. Employees can work in a global environment feeling like they are part of the worldwide network.
Cedric: Recently, I asked a candidate if he has ever taken his company president on a customer visit. The candidate responded, "Never." I then explained that this is something we do at Kuehne+Nagel. Even the president actively participates in development at all levels within the company.
Grant: Some candidates may still believe that international companies rely heavily on individual performance and may not feel confident enough to work in such organizations. How do you address these concerns?
Cedric: You cannot achieve success alone; it's a collective effort. Our mission is to make success possible for everyone in our organisation. We have also changed our performance review process, which was formerly top-down. This year, each employee determines their own goals for the first time, and managers guide them through the training process. We cannot drive our growth if we do not have the right Employee Experience, and we are working hard to create an inclusive workplace culture in which everyone is happy together, working towards a common goal.
Skills and Competencies that Kuehne+Nagel Seeks
Grant: To make your business more successful, what skills are you looking for in your future talent?
Cedric: Here at Kuehne+Nagel Japan, we have evolved into a more international environment, and as a result, we highly appreciate individuals who possess a global outlook while also being passionate about the Japanese culture. During candidate interviews, we closely assess their attitudes and hold candidates in high regard if they exhibit a clear vision and life goals.
Grant: Yeah, totally agree.
Cedric: Simultaneously, the digital landscape has become increasingly prominent. To succeed in Japan, we want individuals with a mindset that welcomes challenges and digital transformation. While relevant professional experience is required, the individual should grasp the relevance of the digital world and embrace the use of various digital tools. Again, having the right mindset is crucial.
The Kuehne+Nagel Approach: Training and Onboarding Strategies that Foster Innovation and Growth
Grant: You mentioned earlier that you are open to meeting with individuals who may not have the required skill set but can be developed. Are there any specific internal training programs for such candidates?
Cedric: We assign a buddy to every new employee. Depending on the position, we may appoint a mentor or bring someone from outside Japan to provide support. It is all about knowledge sharing. Of course, we offer various training programmes and materials, tailoring them to each individual's needs.
To get our new team members ready, we will send them a welcoming email as part of their onboarding process. The website contains messages from me, the new team, and relevant company strategy information. We also include some fun quizzes so they will understand the company better before their first day. We aim to ensure a seamless transition for the new employees by extending this welcome one month in advance.
Hiring Positions
Kuehne+Nagel is actively hiring.
If you want to know more about Kuehne+Nagel and the open positions, please contact
Yuta Ozawa
.
Kuehne+Nagel Ltd
Cedric Dulong has been in Asia for more than 28 years. He started his professional career in Hong Kong as a salesperson in logistics. He quickly moved to a managerial position and build a name within wines and spirits logistics. He joined Kuehne+Nagel in 2005 in Japan as Regional Manager and then moved to China and Singapore where he became Senior Vice President Sales and Marketing. In January 2021, he was appointed President for Kuehne+Nagel Japan.
Hays Specialist Recruitment Japan K.K.
Managing Director, Hays Japan
Torrens brings 17 years' experience in recruitment to the position. He began his career with Hays in London in 2006 with responsibility for accountancy and finance recruitment across the city's banking sector, and in 2010 moved to Hays Singapore in a management role. In January 2019 he was promoted to regional director Singapore and has been responsible for the country's operations for over two years. In February 2021, he was appointed Managing Director of Hays Japan.