Office Professionals recruitment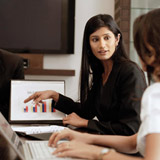 We are the experts in recruiting administration and office management staff across all industries for both Japanese and foreign-affiliated companies. We work with a select number of clients to build long-term business relationships and become a true recruitment partner.
We are continually driven to succeed. That's why we take the time to really understand the qualities you are seeking in your next office professional. With our technical understanding, global reach and unique understanding of markets and people, we'll identify first-rate administration and office management professionals to add real value to your organization.
Our consultants would be delighted to discuss how we could help you find staff.
View all 42 jobs