IDWGIS Interview with Noriko Osumi
The International Day of Women and Girls in Science

Interview with Noriko Osumi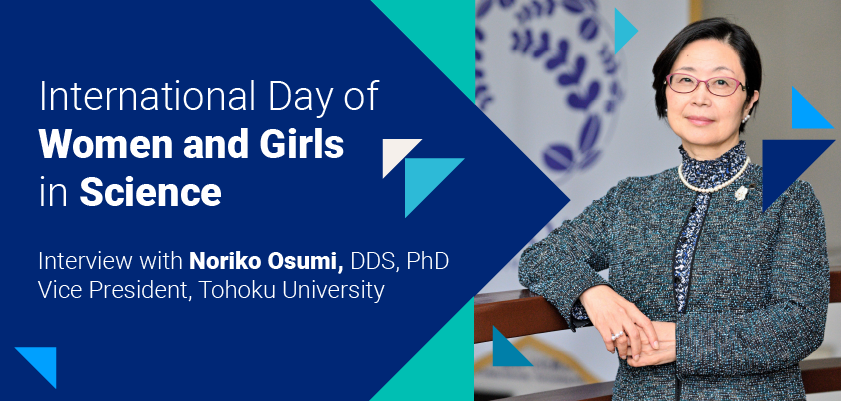 "Let's break the Unconscious Bias" – Noriko Osumi, Vice President of Tohoku University, talked about the unconscious bias for the girls or the women or ladies to enter the STEM field
Cheik Ballo, Senior Manager at Hays Japan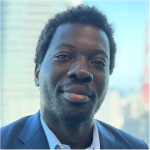 On January 30th, 2023 I had the chance and honour to interview Professor Noriko Osumi-san. Osumi-san is the VP for Public Relations and Promotion of Diversity at Tohoku University, and the 2018 Presidential Education Award winner. She is a neuroscientist, working on brain development. She has a huge interest in the mechanism of autism spectrum disorder and neurodiversity. In addition to be one of the distinguished female scientists in Japan, she is a fierce advocate of gender equality and strives to inspire the next generation of Women in Science. Since 2006 she has been working as a special advisor and founder of Tohoku University Science Angels program, which has been renamed as Science Ambassadors program. Their mission is to nurture the future generation of female scientists.

Osumi-San has been fighting to change the lack of representation of females in STEM fields. She believes, we need more female role models to inspire and educate the younger generations so we can get rid of unconscious bias. The more exposure parents, teachers and students have to those role models, the better understanding they will have about science, and career opportunities within the industry.
When did you start being interested in science?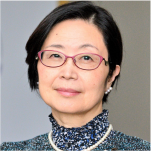 Both of my parents were biologists. My late father was a marine biologist especially working on the whales (Sea mammals). And my mother who is still alive, was working on yeast. She was observing the different kinds of the yeast cells using the electron microscopy from the 1960s which by then was still very novel in Japan, so, she was in that way a pioneer.
Science was very common in my home, so my interest in biology seems very natural.

At the time of the entering college at the age of 18 in Japan, I asked myself: How can I contribute to society? I wanted to cure people directly. I started in the dental school, but soon I discovered, like a detective, I like to solve mystery rather than clinical practice. For the last 20 years, I have been involved in the research & development of Neuroscience.
You were one of the founders of TU Science Ambassador program, to promote gender equality in science. I think maybe you can give us a lot of insight for my next question: What do you think of a challenges or barrier for women (or anybody) who wants to do science today?
OK, so I think that I should answer in the based on the situation in Japan, which is a little bit different from other European or American countries. I think that in in Japan, so there is still lots of unconscious bias for the girls or the women or ladies to enter the STEM field: (1) girls should have more interest in the literature, psychology, some social sciences, and (2) Engineering and science are not the fields for girls. Those biases are still very common in Japan.

It is very important to remove and get rid of those unconscious bias. That is why we have started as so-called science angels at that time (science ambassador). The goal of the science ambassadors is to act as role models to educate.

The science ambassadors belong to the Tohoku University, and they are female Graduate School students. Because they are closer in age with the next generation, It helps to develop closer communication with elementary school, junior High, and high school students. For example, they delivered seminars in person and online during COVID. They share about their personal lives and their work in the STEM field.

These barriers can come from parents, teachers or even friends. Society is not aware of opportunities for women of science. Parents may worry, and may ask their daughters: if you enter the engineering department, what would you do after graduation? What kind of job you can do? They are not aware that there are a lot of career opportunities available after graduating with a STEM degree. This kind of information is not widely distributed within Japan.

Showing students; the real life of women scientists, is very important to educate our society that women working in science are doing fine.
Women and Girls are still severely underrepresented in Japan and across the globe. Today, women represent only 27% of the workers in the STEM field globally, in Japan, we are at 16%. The field is still dominated by male workers.
Do you think scientists are born or they're made?
Oh yeah, that is a very nice question. I think that it is both. We need both:
1. Good eyes to observe
2. The logics to think
Both are needed, the first one, the good eyes, can be born and the logistic logics can be made or to be trained. I should say that logic should be trained, it cannot be a naturally or automatically. It's not the innate character. Of course, some people are very good at that, making things logically or it depends on person to person. To be a good scientist, you must train and develop your logical thinking.

I think that we can also train a good eye; we can point out one by one, little by little, but I think that this is more a natural thing.

The people who want to succeed as a scientist should have both skills like a good eye and the logical thinking. But they don't need to be 100% perfect in both skills. Collaboration is very important today in the world of science. So, you can collaborate with a scientist that complementary to your own skills. Science work is rapidly becoming teamwork.
What is exciting about science?
Oh, that is to find out something new. Yes, that is thrilling and exciting time point.
And it's like a drug or opium, you know? (I don't have lived experience of this….)
Scientist are addicted to these feelings or sense of achievement of finding and discovering new things.
What is the motivation for people to pursue a career either in academic or as an engineer?
I think that it depends on person to person. In addition, to the desire of discovering something new to humankind, one of the biggest motivators for scientist is doing something to contribute to society.
In my case, I think that working in science, teaching at the university and training Graduate School students are my motivations. I think that I'm contributing to society.
Contributing directly to advance our human race is very satisfying; I get the feeling I'm doing something good. So, maybe the important thing for leaders, professors, mentors is to show the future generation of scientist how their work is important to contribute to society.
What advice would you give to boy and girls in middle school or high school who never thought about being a scientist but may start being interested in science? Do they still have time to catch up if I want to develop a career in science?
Yeah, I think so.
Yes, maybe you should choose a good field or good topic to tackle or to challenge. There are many diverse fields or topics in the science or the STEM Field. Some traditional topics are very hard and sophisticated that need a lot of accumulation of the knowledge. If those fields are too difficult, I suggest, to choose a New and Novel and not so crowded field to jump into.

Now, more and more, the science Academy is expanding. it's like a big bang in the universe, it is expanding very rapidly. We have a lot of new fields, for example in Artificial Intelligence (AI), there is so much to be done. New ideas and new perspectives can be help make a breakthrough so. I think that it's better to choose those kinds of new fields.
What kind of change do you see happening in the science industry Now, in 2023? How is it different from five years ago?
Times are changing now. so previously mentioned I am I have much interest in the AI based type of analysis. I believe AI will change the world. Because as human beings, our brain has a capacity limitation. For example, as a human being we cannot double our memory. But by using Computers and AI, we can Double or triple or limitlessly expand our knowledge, and based on those kinds of big data, we can come up with very different ideas.

Science Discovery can be different. Previously, we are reading some literature and then we'd make some hypothesis and then try to do some experiments to prove that our hypothesis is true or not. This is a classical way for centuries.

Now all our accumulated knowledge from centuries of research and studies can be stored and analysed (Big Data). The AI can analyse those big data sets and came up with very interesting hypotheses.

We, human beings, discuss and the choose which of the hypothesis can be more reliable or more interesting. And then also ask some people to do to prove that kind of a hypothesis is true or not. So those changes will happen very soon, I think.

So in that way, I think it's very interesting era. In my opinion, I'm very happy that I'm actually 60. I can probably see that things will change during these next 10 or 20 years, within my lifetime. This is a really exciting time.

What do you think are the top skills to succeed in science?
Programming of course will be at the centre in the 21st century.
I can't decide on the other two, IT is very, very high priority compared to other things.
Soft skills:
Communication
Writing
Perseverance
Communication: Communicate with other people. More and more, we are doing science in teams. Teamwork and collaboration are becoming the norm, so we need more communication than before.
Writing: Especially in case of the science, correct writing, or precise writing is a very important skill.
Perseverance: I think that we need to learn to wait, to have a very big discovery or big finding. Such discoveries require Patience. We should learn how to be patient. It is an important skill to develop as the answer does not always come very easily or quickly.
For all the women and men interested in a career in science, what is your advice for them
First, jump into the new field.
Second have a good role model or mentor.
and third. Be foolish.
This last word is I took from the Steve Jobs. He says probably "Stay foolish". Well then. The new AI cannot be foolish. Being foolish can be only can be done by human beings. Communicate with the different people and have various experience. Those personal experience can change the way of thinking or well feeling and can help you come up with a very unique idea that may change the world.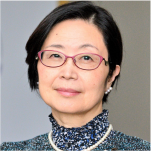 Noriko Osumi, DDS, PhD
Vice President, Tohoku University
Director, Tohoku University Library
Director, Center for Neuroscience
Professor, Department of Developmental Neuroscience
Tohoku University School of Medicine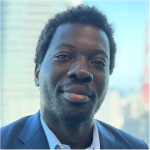 Cheik Ballo
Senior Manager at HAYS Japan
Chair & Japan representative
Helping for your tomorrow