Power the world of work

The right people are invaluable. So are the people that find them.
You might not know what you want to be or do. You may have embarked on a career that simply isn't you, or you may have recently graduated and still be trying to work out what that career should be.
If this sounds appealing, then a career in recruitment with Hays is for you.

At Hays, we are the experts in recruiting qualified, professional and skilled people. We power the world of work by truly understanding our clients and candidates, locally and globally. We provide deep expertise across a wide spectrum of industries and sectors.

We believe the right job can transform a person's life and the right person can transform a business. Looking after the careers of professionals and directly influencing lives is something most people never have the chance to do. At Hays, you'll do it every day.

At Hays you'll never stand still because we harness your potential. We believe in promoting our people based on merit. With world-class training and mentoring from senior leaders, the possibilities for your career are endless.

As a recruitment consultant, you'll have the opportunity to determine your career path that is aligned with your skills and interests. Achieve and you'll be fast-tracked into people or business leadership. We have transparent promotion criteria, so you'll always have a goal to work towards.

Our Corporate Services teams prioritize career progression too. Many of our Corporate Services experts have enjoyed long-lasting careers with Hays, often starting in entry-level roles and progressing to management-level.

At Hays, there is no limit to your career potential.

We don't expect you to be an expert right away. We significantly invest in your development through our training programmes, which are recognised as the industry's best.

We employ a wide range of people, but they all have one thing in common; the energy and passion to power the world of work.

If you are passionate about people, want to build and share your expertise, are determined to be the best, thrive under pressure and respond proactively and positively to targets, a career at Hays could be for you.

Why Hays?
Understand the role of a Recruitment Consultant and most importantly, what makes Hays so unique.

Your career
Everything you need to know about your career with Hays, graduate opportunities, training and development and benefits and rewards.

Our people
Find out what our employees say about their career at Hays.

Contact us
To find out more about a career with Hays in Japan, please contact your local internal recruiter.


At Hays, we don't just accept difference — we celebrate it, we support it, and we thrive on it for the benefit of our employees, our customers, and our community. Hays is proud to be an equal opportunity workplace that embraces diversity and strives to be inclusive environment for our people. Our hiring decisions will be made on talent and potential alone.
Recruitment Career at Hays
Recruitment Career at Hays
Watch our video now and find out how you can apply to work at Hays Japan.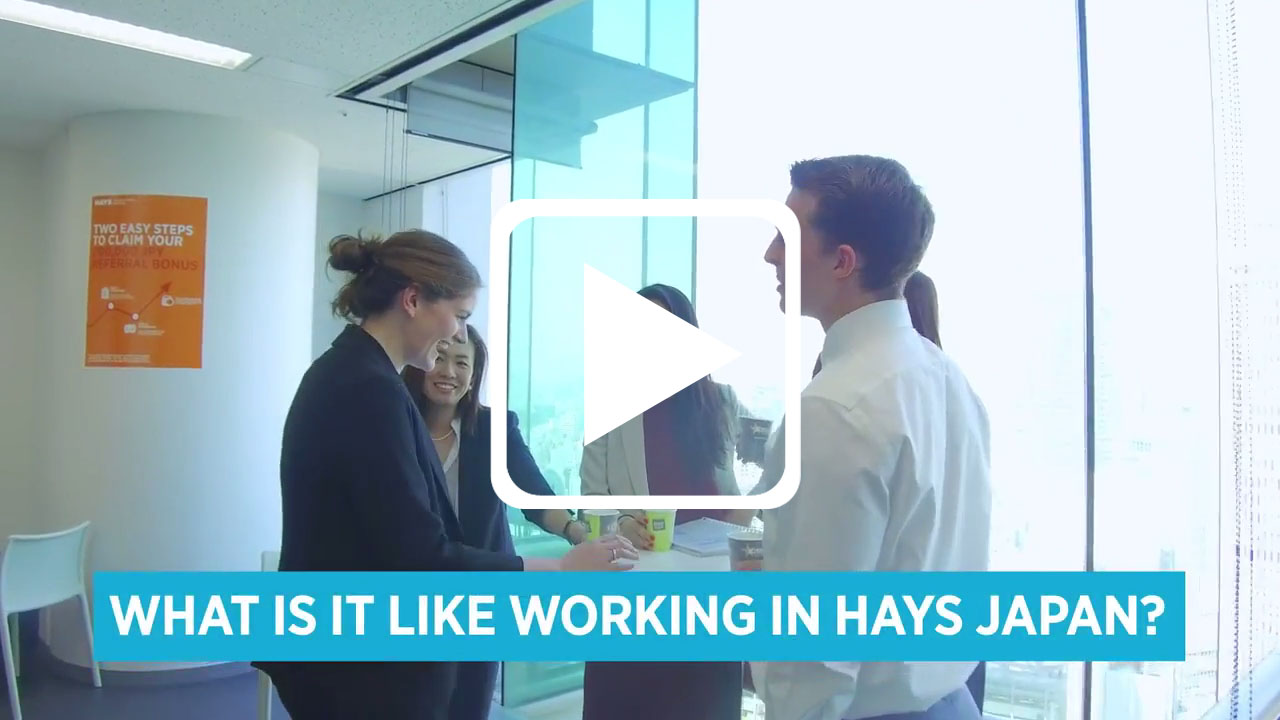 Supporting our local charities and communities