Nippon Express

Nippon Express was established on October 1, 1937 as a so-called national policy company based on the Nippon Express Co. In 1942, carriers in major cities across the country were merged, and the original form of the present company was formed. After the war, with the enactment of the Transportation Business Law in 1950, the company was re-established as a general trading company under the Commercial Code. Since then, the company has worked to expand and develop its business in line with the recovery and development of the Japanese economy, and has continued to do so to this day. In this interview, we spoke with the Executive Officer, Mr. Satoshi Otsuji, about the company's business strategy and qualities they look for when hiring.
What are your thoughts on the future of Nippon Express' globalization and its accompanying business strategy?
I believe that globalization is essential for the survival of all large and small Japanese companies, regardless of whether they are in the logistics industry or not.
Since our core business, including sales, organization, and partners are in Japan, our major initiative for globalization is to shift to a holding company structure in January 2022. With the new structure in place, Japan, the Americas, Europe, East Asia, and South Asia/Oceania will develop side-by-side as a group, having more emphasis on overseas operations than ever before.
As we transition, we are aware of maintaining our character, culture, and strength of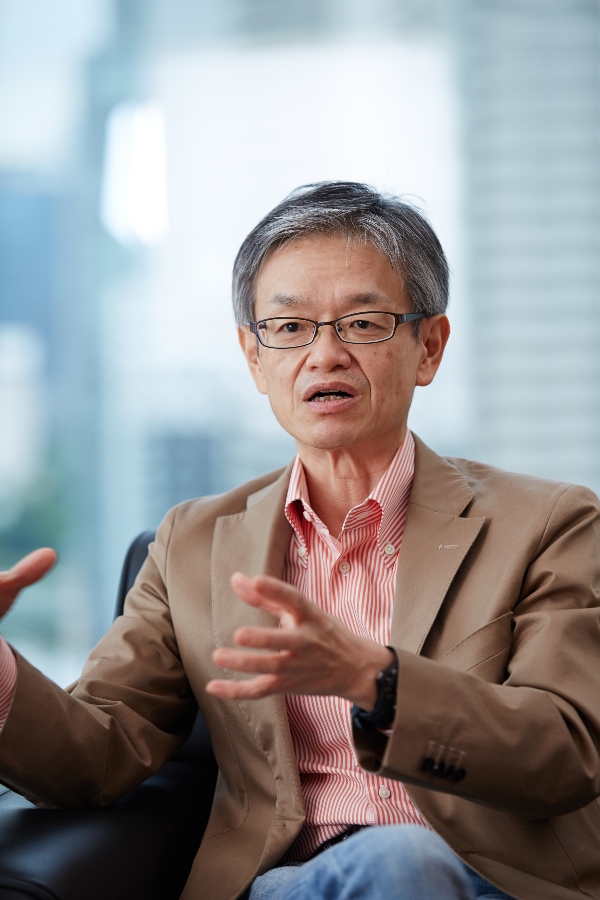 building long-term and strong trust and relationship with customers. Even in the midst of globalization, as a Japanese company, we cannot forget the qualities we are embedded with. Therefore, I believe that the model for Nippon Express' globalization in the future is to globalize and grow as a business while retaining our strengths and to continue to work closely with our customers alongside the changes. Finally, we are actively hiring foreign employees, strengthening the acceptance of transfers from overseas to Japan, and wearing casual clothes to work (which may be the norm for foreign companies). These are just a few examples of our strategy of globalization.
We have seen more cases where Japanese employees and foreign employees communicate in English at the office. Fortunately, many of the people who join our company are eager to develop their careers in a global environment, which shows that our employees are highly aware of globalization.
I believe that globalization will not spread solely with the management. We need to continue promoting globalization within the business by carefully assessing each employee's attitude toward the transition.
What issues are the logistics industry facing today? How do you think it should change in the future?
The biggest issue is the shortage of workers, particularly the number of people who actually run the logistics, such as truck delivery drivers and warehouse management staffs. This is not an issue limited to Japan. However, I believe that the logistics industry can be easily automated, which in the long run, would solve the issue of "labor shortage".
Our company is also actively working on automation, and with the transition to a holding company system, we are planning to align all the functions within our company share in hopes of digitizing the entire company within Japan.
Many people who are changing jobs from Japanese companies are looking for a "flat work environment" and are considering changing to a foreign company. Is there anything you provide, in terms of internal communication, to create a flat work environment at Nippon Express?
To be honest, it is difficult to say that we have a flat work environment at this stage. At our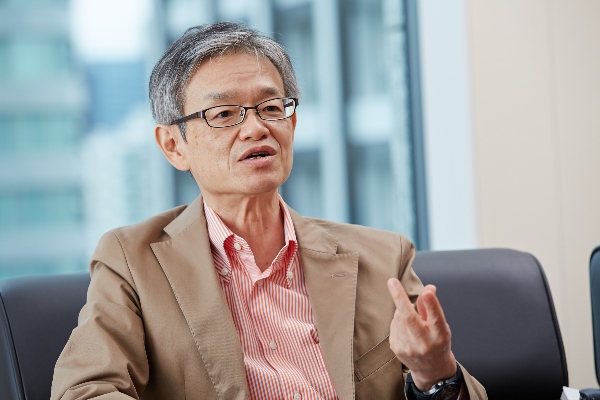 head office, there is certainly an increase in communication between the directors, managers and non-management staff. However, other branches in Japan and other countries have formed its own internal culture, as the internal communication environment at each branch and the head office is different depending on the branch manager.
In order to create a flatter work environment, we have removed the executive's room at the head office, making a space for all employees to work freely without fixed seats (of course, employees at the executive level also do not have assigned seats). Another common change we started from this year is for employees to refer to each other as "san". We call the president "Saito-san" instead of "Shacho".
As a large organization, the pace of change with our internal culture may be slow, but I hope that we will be able to make a gradual shift in the right direction along with globalization.
What are some of the issues that Nippon Express is currently facing?
As I mentioned earlier, I would like to improve diversity both inside and outside the company. As I have experience of working at various countries around the world, it has provided me the opportunity to learn from working with foreign employees and external partners. This includes their knowledge of logistics and supply chain as well as their way of viewing work. In the beginning, everything was new to me, and I still vividly remember the exciting days I spent there.
By hiring foreigners, it would help our diversity level to increase, but it will be crucial for us to listen carefully to the ideas and opinions by the foreign employees so that we can implement them into our future management. In addition, the number of female employees playing an active role in the company has increased significantly compared to a few years ago.
In the future, I would like to expand Nippon Express' global supply chain solutions by eliminating the concepts of gender and nationality while ensuring that all employees understand our work culture, Japanese culture, and ways of doing things.
The company is in the midst of a period of change with many upcoming changes in the future, but what do you think is the most appealing point about working at Nippon Express?
What appeals to me about working at Nippon Express is how all employees work diligently to provide better service, allowing us to provide high quality service on a sustainable basis. We are proud of our employees' enthusiasm for their work, and we are confident that our commitment to service quality is stronger than any other company.
We are conscious of this even when we are not in contact with our customers, and we always work with the idea of providing extra services. This is not something that we teach to our employees as a "corporate philosophy/value," but it is a quality that all our employees value from the start.
On the other hand, because of our long history in Japan and stable growth of the company, we have a "relaxed" and "laid-back" atmosphere (both in a good and bad way). I believe that stability leads to a sense of comfort for each individual, hence, when we welcome new members to the Nippon Express family, not only expressing our enthusiasm for work, but also a sense of reassurance.
As we continue to make changes, I hope that we can work together with our future employees to turn our problems into points of appeal.
There is a strong impression that Nippon Express employees work with a sense of "loyalty" to the company. What kind of background does the company have to gain the trust of its employees?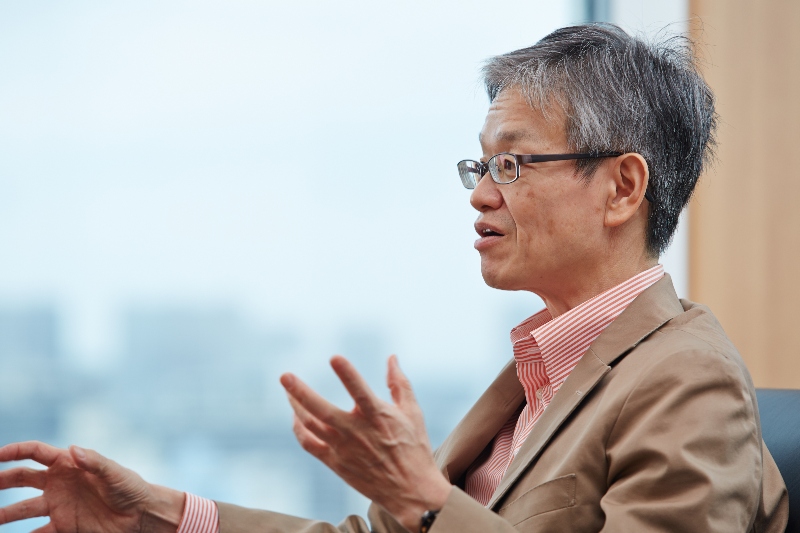 I think that each employee comes to work every day having a firm understanding of the corporate philosophy. The first words of Mr. Saito, the current president and representative director, were "I want to make all employees of Nippon Express happy." Happiness is not just about raising commission, but the feeling of satisfaction and contribution to society an individual gets in which Nippon Express provides, in other words, "I want each individual to feel a sense of purpose in his or her life."
Every day, I can feel that I am doing work that would contribute to myself, my family, and society, thanks to the generous support by the company. It may seem vague, but I feel that the company fulfilling everyone's desire to contribute to society is what leads to a sense of loyalty among our employees.
Lastly, do you have any message for those who are considering Nippon Express as their next career opportunity?
I hope that many people, regardless of nationality or gender, will join our company as a place where they can utilize their abilities. We will support you and welcome you with open arms. Let's grow together to develop your future career!
NIPPON EXPRESS CO.,LTD.
Executive Officer
Satoshi Otsuji
Mr. Otsuji joined Nippon Express Co., Ltd. in 1988 and was assigned to the Domestic Transportation, Sea and Air Freight division of the Kobe Branch as a sales representative. Four years after joining the company, he was posted to Canada after being recruited internally for an overseas training program. As manager of the small-scale Halifax Branch of Nippon Express Canada, he provided logistics services for perishable foods such as seafood.
After a one-year assignment, he returned to Japan and was immediately transferred to the Montreal Branch of Nippon Express Canada as a representative, where he was responsible for managing the branch's Domestic Transportation, Sea and Air Freight division for seven years.
In 2000, he returned to Japan and took charge of the logistics solutions in the Domestic Transportation, Sea and Air Freight division before being transferred to the Corporate Planning Department at the head office, where he was responsible for supporting the management infrastructure.
In 2010, he was transferred to Germany as an expatriate again, and then to Italy for two years in 2018, before returning to Japan where he currently resides.
He has spent more than half of his 30-year career overseas and is currently the executive officer in charge of the Business Development Department, Customer Service Center, Industrial Marketing Department, Sales Strategy Department, and Pharmaceutical Logistics Quality Assurance Office at Nippon Express' head office.
Hiring Positions
Nippon Express is actively hiring.
If you would like to discuss on the position, contact Yuta Ozawa.
The Inside Story right promo block