Xiaoguang Sun

VP Human Resources, Youku,
Alibaba Entertainment Group, Mainland China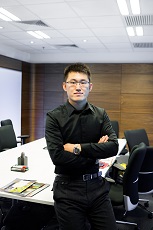 "The best way for HRDs to continue to develop is to observe, study and ask questions from those around you."
Career path
Xiaoguang fell into HR by chance despite studying the discipline at university. At the time, HR was a relatively new major, and Xiaoguang and his classmates had no idea back in the mid-nineties how significant the profession would later become in China. This meant that for many who studied HR during this period, most would end up working in a completely different profession.
His first role after university was as an International Trade Officer. However, the trade industry suffered a downturn around 2001, and this provided the impetus for him to seek a career with a leading multinational. A role on offer by Epson China as a Training & Development Supervisor was too good to turn down and eventually led him into a long-lasting career in HR.
It was at Epson where Xiaoguang's eyes were opened to the attractions of becoming an HRD. His role in the HR department enabled him to obtain the necessary exposure to the inner workings of how HR functions work and how it adds value to each of the business units. He quickly found himself in a strong position to add value to the business and this confirmed his interest to progress his career further in HR.
After leaving Epson, he advanced through the ranks at notable multinationals such as Ericsson, where he was Senior HR Director, Head of HR Strategy, Head of Talent Acquisition and Head of Strategic Workforce Planning.
His next role saw him assume the reigns as Senior HR Director at Mars Inc and Head of the Centre of Excellence functions. In April 2015, after 14 years in HR, his continued growth saw him land a role at one of the most exciting and dynamic multinationals in the world; Alibaba Group. Despite the demanding nature of this role, he is also a visiting professor at Sichuan International Studies University.
Get hands-on experience
Throughout his career, Xiaoguang has worked across various industries, such as telecommunications, FMCG and IT. While for many professions this would be considered a disadvantage, he believes this does not hold true for HR.
"I believe that it's beneficial to possess cross-industry experience as the key expertise and competencies of leading an HR department are transferrable. A hurdle for HR associates to navigate is the differences in culture, pace of an organisation and personalities which all vary from company to company, industry to industry."
Xiaoguang maintains that it is absolutely critical for an HRD to understand how a business operates from the ground up, including understanding what is going on in various business functions. "By fully understanding the business inside-out, HRDs can do their job better and set and design strategic programmes, such as fundamental leadership programmes. Furthermore, they will be in a better position to participate in strategic planning if they have expertise in other functions within an organisation."
As a word of advice, he adds that the formative years in the industry are the most important in one's quest to become an HRD. "Those years form the foundation from which one progresses and can identify opportunities for exposure to hands-on tasks."
Learn from those around you
In order to develop yourself, Xiaoguang believes that you should always be curious, learn from those around you and network. "The best way for HRDs to continue to develop is to observe, study and ask questions from those around you." For example, as he sees so many outstanding entrepreneurs at Alibaba who have previously led start-up teams, he is afforded a first hand look at what makes these individuals tick.
Throughout his career, he has delivered numerous speeches on HR, which have given him the opportunity to network with attendees from a wide range of industries. As a result, he has been able to encounter a mix of executives from different backgrounds, often with different perspectives on how to create a successful business. This has provided him with insights about different ways of thinking, which he feels is invaluable knowledge.
As a final example on the importance of networking, he reflects on a point in his career when he became disillusioned with the industry. It was during this period that Xiaoguang received advice from a colleague, namely that he should make a plan for where he saw himself in the next 10 to 15 years. "I took the advice, which revitalised me and my outlook. This pivotal moment gave me the impetus to continue growing and following a career path within HR."
Skills required to succeed as an HRD
Xiaoguang feels that for anyone wishing to become an HRD, they must have strong leadership qualities and exceptional business acumen. "I was able to harness these qualities by ensuring I had a strong understanding of how each of the different companies I worked at operated in their specific industries."
"Furthermore, an HRD should have the courage to make a decision even though it may not be popular or well received by those in the organisation. If your character is one that wishes to appease everyone that is around you, you will not have any desire to make any changes, which is likely to curb your professional development."
Another skill that Xiaoguang believes is necessary to succeed as an HRD is to be able to look at the bigger picture. HRDs need to balance the interests of the C-suite and board with those of employees. The approach that he usually takes is to look at the impact of decisions on the organisation's long-term future and growth, which places him in a better position to manage the interests of all parties.
Work-life balance
As Xiaoguang sometimes works 70 to 80 hours per week, he cherishes every moment he gets to spend with his family. But he feels that the heavy workload is a small price to pay to hold such an important role in a multinational organisation. "One of the best things about being an HRD is the ability to shape people's careers. And for my own personal career, the best thing about being an HRD is the ability to create my own destiny."
Explore the DNA of an HRD right promo box
Explore the DNA of an HRD
HRD profiles