James Marsden

Managing Director Japan Global Technology & Operations Broadridge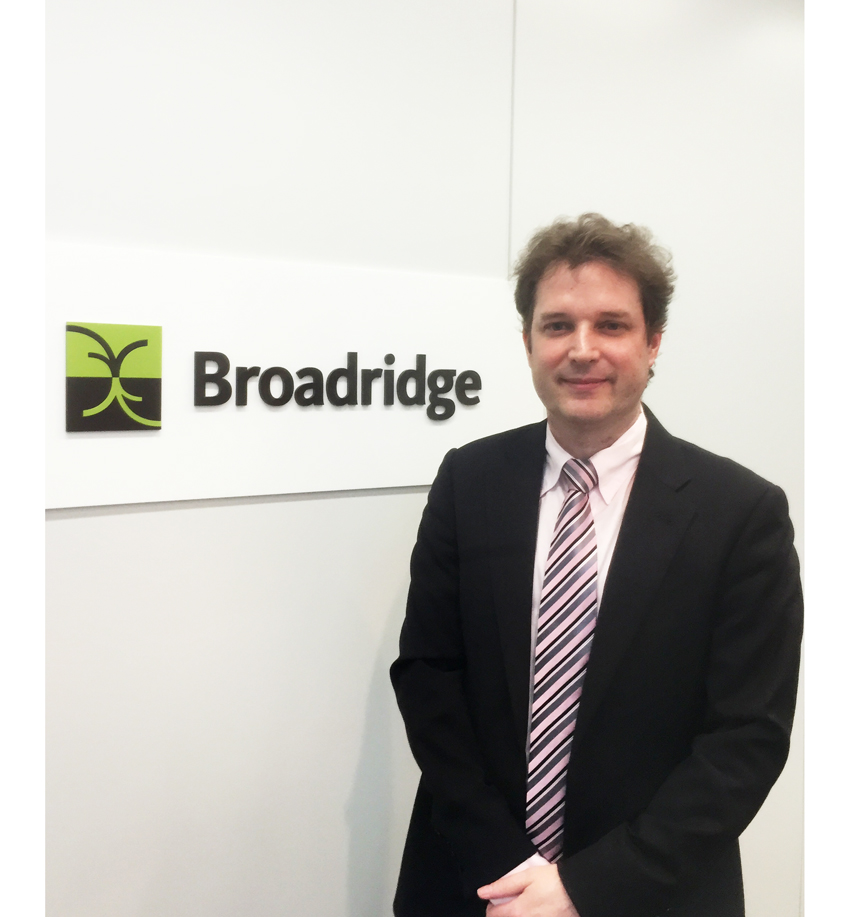 It is a commonly held belief that, in most walks of life, to get to the top takes a combination of two key ingredients: a little bit of fortune and a lot of hard work. For James Marsden, Managing Director Japan and APAC Strategy Business Development for Broadridge, that first stroke of luck came early in life.
"It was the eighties and I stumbled across a book on ZX81 programming, ironically bought by my brother who never got into computing" he remembers. "It was a new field and I was fascinated by the fact that you could give it a series of commands and it would do exactly what you told it. I could immediately see how creative IT was, because ultimately it is about imagination. You have to understand what the problem is and then envision the solution."
Combined with an interest in finance, it was this fortuitously discovered passion that led him to reading Economics and Computer Science (B.A.) at Liverpool University, after which he undertook his first role as a Junior Programmer with Broadridge. To his surprise, in just ten years, having grown and developed in parallel to Broadridge's growth, he found himself in the unique position of being offered the role of business head (for a vendor this is the equivalent of CIO) for the Japan division at a relatively young age.
"Becoming CIO was not originally part of my plan," he recalls. "But the time was right when the opportunity came along. I suppose it was part luck and part by design. What did I have to lose by stepping up at an early age? No one will think badly of you if you take a risk and it doesn't work out"
But to say that luck alone carried him into the higher reaches of the organisation is to overlook the hard work and technical skills that brought him to a position from where he could take advantage of it.
Broadridge offered me the opportunity, on its market leading post-trade platform called Gloss, to undertake a variety of roles from programmer, technical analyst, business analyst to project manager, so he attained a broad knowledge of the software development lifecycle and a good understanding of what it takes to deliver IT services to prestigious clients. One attribute that James holds as being particularly key is an aptitude for uncomplicated communication with his clients.
"It is understanding the clients' needs and having the ability to talk to them in their language, not in the language of IT, that makes the difference between a good technical person and a great manager / engineer who can bridge the gap," he says. "The opportunity to apply those skills was good experience that came from working in the various functions in Broadridge and the opportunities they offered me."
Although James holds an ability to talk with clients in extremely high regard, he sees a capability to listen as being twice as important. "Everybody has two ears and one mouth and they should be used in that proportion."
"It's imperative not to just talk about your solution with a client (sometimes referred to as "solutionizing"), something that IT people are particularly guilty of doing," he suggests. "Instead it is important to listen to what your client's requirements (needs) are, to make sure you understand their issues. You shouldn't just focus on what you feel is important, but rather you have to understand what is important to them."
Despite working in a sector in which technology is the primary concern, it is clear that James sees the people within the sector as the driving force. While he has a clear focus on client communication, James considers communication with those he works with of equal importance. With this in mind he considers networking as a key aspect for any aspiring CIO, although one that comes with a key caveat.
"You have to be careful not to spend too much time networking," he warns. "It is of course useful as you can develop relationships, but the problem is that you don't necessarily cultivate the right connections in order to make things happen. It isn't just a case of amassing as many contacts as possible, but rather it is more important to develop the right quality of contacts, ones that are best placed to assist you and your organisation."
"Networking through people with whom you work and building trust through doing the right thing is the course to enlightenment. It's always important making contacts, but there are other ways of doing that, such as through introductions and people recognising you for your work and connecting this way."
Of course IT is an area in which the technology is of vital concern, particularly for someone like James who came to the sector enamoured with its creativity. Throughout the years he has cultivated a broad technological knowledge, but he points out that the development of technology is only a step of the journey, not the goal.
"IT is the tool of how we work today, it's an enabler helping businesses to improve efficiency and to innovate, to capture new markets and grow" he considers. "Especially when you have a trend – such as Blockchain - coming along which is going to be so important in helping us to innovate. However, even for those of us in the sector, it's not clear at the moment how it will be used, but with IT it's not what the technology is, but rather how you're going apply it to solve your client's problems."
So at the end of the day, no matter how innovative a technology may be, it is down to people, James feels, to discover what solutions a technology can bring, and in order to do that it is important to have a diverse range of people who will tackle a problem from differing angles and thus unlock those answers.
"You can't have everybody in a room trying to solve a problem all thinking the same way, because then you don't find the inherent weaknesses in your solution," he argues. "Having people from different backgrounds, different educations, who grew up in different countries, who have diverse thought processes and experiences; creates different dialogues."
So with a diverse group of people within your organisation, communicating with them is key, and a major part of that is leading them, which is why James puts such stock in developing leadership skills and is a firm believer in leading by example.
"Because it's a very big and complicated world that keeps changing all of the time, the commitment to continuously expand your knowledge is important," he advises. "You have to put in the hard work if you're going to be successful in a role like this and rise above your peers, and to a certain extent the long hours go with the territory of a senior position."
But when James talks of putting in the hours to attain success, it is not his own personal success to which he is referring, but rather the realisation of company objectives, alignment with other groups such as sales and finance to understand the organizational goals, and meeting the goals of the clients who put their faith in his ability to lead them.
"It comes down to when things go wrong, when the chips are down, and people are depending on you, how are you going to respond to the problem?" he asks. "Are you going to come out fighting, or are you going to walk away? How are you going to respond when a difficult problem occurs?"
It's pretty clear that, in James' case, with that hard work behind him, not to mention the possibility of an occasional slice of good fortune, there can be little doubt as to how he will respond.
As he says, "You've always got to come out fighting."
Broadridge is the leading global provider of investor communications, technology-driven solutions, and data and analytics to the financial industry. Broadridge has operated in Japan since 1998….To find out more visit Broadridge.com
DNA of a CIO right promo box
Explore the DNA of a CIO
CIO survey results

CIO profiles