New Customer service contact information
Contact information

Inquiry Support Hours:
Weekdays (Monday to Friday): 9:00 AM to 6:00 PM
(Excluding Saturdays, Sundays, national holidays, and company holidays)
*We are currently receiving a large number of inquiries and it may take up to approximately one week to provide a response. For those who require urgent assistance, please contact the respective office directly by phone.
Inquiries about deleting account and personal information:
If you wish to delete your account and the personal information that you have registered with Hays, please send the following information to
privacy@hays.co.jp
.
Your name (full name in Roman letters)
E-mail address
Phone number
Reason for deleting personal information

Inquiries about Invoicing: Please send your inquiry to the e-mail address.
Inquiries about Hays online account or website problem:
Please send your inquiry to
Marketing.Japan@hays.co.jp
. If you have a login issue, please send us a screenshot of the error message with the URL of the screen visible, so that we can investigate it more smoothly.
Inquiries about Unsubscribing e-mails:
Please contact
Marketing.Japan@hays.co.jp
and let us know that you wish to unsubscribe emails from Hays.
The personal information written in the email will be used only to respond to our client's questions or suggestions.
It is optional to add your personal information via our website. However, please be aware we may not be able to answer your enquiry without your complete/detailed information.
We will not disclose any information that is treated as confidential information by the company, or any personal information used during the course of business activities to a third party or intentionally leak such information to third party.
We will respond appropriately to any request from you such as Disclosure, Correction, Deletion and Suspension of use of your personal information.
Inquiries: Hays Specialist Recruitment Japan K.K.
Personal Information Administration Manager TEL: 03-3560-1188
Please read the Terms and Conditions of Use, Privacy Policy and Disclaimer.
JP_PromBlock_Right_RegJob
JP_PromBlock_Right_SearchJob
Hays and Manchester City Access
Hays and Manchester City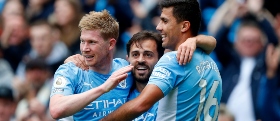 Hays has been a proud sponsor of Manchester City since 2013, expanding the partnership to include their women's team in 2017.