The Inside Story of IT Contracting in Japan
The Inside Story of IT Contracting in Japan

AN ARRAY OF IT CONTRACTING POSITIONS HAS TO BE FILLED IN THE MIDST OF PERMANENT STAFF COMING UP SHORT IN JAPAN. SKILLS SHORTAGES IN THE COUNTRY IS EXACERBATING
Japan being in the grips of a skills shortage crisis is not news. In the latest Hays Global Skills Index report, Japan received a rating of 10 for talent mismatch, and this number has been growing incrementally since 2016 where the score was 9.8. In January this year, Nikkei Asian Review revealed that Japan will lose a fifth of its workforce by 2040 as the "overall population declines" and "if the economy sees no growth and women and the elderly continue to have difficulty landing job."
Notwithstanding, businesses remain bullish about the year – according to the survey findings from the 2019 Hays Asia Salary Guide –– thereby citing intentions to augment their workforce in the coming months. However, many employers are, at the same time, not feeling confident in finding the skills essential to business growth, which may be in part due to the ten per cent year-on-year decline in jobseekers in the country. To resolve manpower issues and make up for shortfalls in skillsets found in the permanent recruitment market, they increasingly turn to the temporary and contracting market.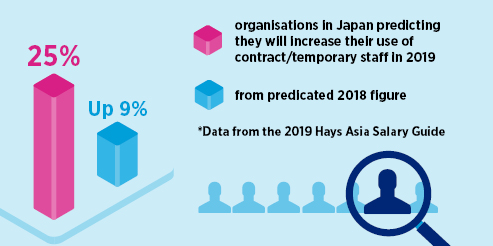 Contract work in Japan, however, continues to have an image problem, one of low paid office clerks, hospitality staff and call centre workers on 'haken' contracts that afford them few rights and, often, even less respect. However, looking beyond these stereotypes there is a rising trend for highly-skilled staff in the upper levels of industry choosing contracting as a career path, filling gaps that permanent staff cannot. This is particularly apparent in IT contracting.
With such a wide array of IT contracting positions to be filled, companies are struggling to keep up, and they are finding that their intake of permanent employees is falling short of the skills required. One reason behind this deficiency lies in the business culture propensity towards moving employees from department to department. Of course, building in-depth organisational knowledge has its many advantages, but when specific, well-honed skills are required, companies are finding that the generalists they have developed are coming up short.
CONTRACTORS IN CHANGE MANAGEMENT, PROJECT ANALYSIS, PROJECT REENGINEERING, TECHNOLOGY AUDIT AND GOVERNANCE, DEVELOPMENT, NETWORKING INFRASTRUCTURE AND NETWORK ENGINEERING ARE HIGHLY SOUGHT AFTER
Within the IT contracting market, the major roles that require filling are in project change management; particularly business analysts and project reengineering specialists. Also, thanks to the relative newness of the technology involved, candidate positions in technology audit and governance are needed as are roles in development, networking infrastructure, and network engineering. Furthermore, due to the recent rash of M&A activity in the financial services sector, and the high IT adoption levels in the industry, candidates with experience in these areas are in demand.
Due to the global spotlight on Japan's IT industry, many international companies are developing their presence here, and Hays Japan is being tasked with filling positions within them. One prevalent skill that companies are looking for in these candidates right across the IT contracting sector is English proficiency, which is a challenge for employers as Japan persists to rank "low" compared to the rest of the world when it comes to fluency in the language.
In view of the skill shortages in IT locally, many firms have been more open to considering talents from abroad. Japanese returnees, in particular, are greatly favoured because of their perfect combination of having global exposure and a rich understanding of local culture and language. At Hays, we leverage on our networks globally through our GlobaLink department to reach Japanese tech talent from abroad and repatriate them. Such talents are usually bilingual, which makes them even more attractive as candidates.
BUREAUCRATIC NATURE OF CORPORATE CULTURE A HINDRANCE TO AN EFFECTIVE CONTRACTING MODEL
The salary guide also reveals that while nine in ten employers (92 per cent) in Japan have been, to some degree, already relying on contract staff, a quarter of them say they expect increased reliance on contractors in the coming year.
However, despite growing intentions to expand their contract workforce, efficiency surrounding employment of such staff remains low. As compared to mature contracting markets in the West where hiring decisions take place in a matter of days, the process in Japan for securing contract talent is significantly lengthier, which sometimes leads to a hefty compromise of projects, especially IT-related ones.
In Japan, the bureaucratic nature of the corporate culture is a major obstacle to securing adept IT contractors needed for urgent projects. Hiring managers often prolong the interview process by assessing a contract candidate's profile as they would a permanent one. Given the ever-evolving nature of IT landscapes, newer technologies may outpace decision making, resulting in the need to readjust the skillsets required of a contract role.
For instance, an employer could be looking for skilled talent in Java but due to the progressive nature of IT, this may change three months down the line and they may instead need an individual who is skilled in Python. The entire recruitment process then needs to restart as the requirements would have changed.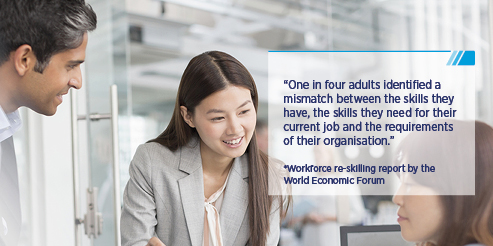 Employers are therefore urged to speed up the hiring process for contractors as the very nature of contracting is to have someone hit the ground running, especially in the IT sector where businesses should keep pace or risk being left behind.
TALENTS LOOKING TO MAKE MID-CAREER CHANGES OR EXPERIENCE NEW INDUSTRIES CAN BENEFIT FROM TAKING ON A CONTRACT ROLE
For individuals with the skills and adaptability required, there are many advantages to contracting in the IT sector. Perhaps the primary reason for candidates to take up contracting roles is in order to make mid-career changes and to gain experience in new disciplines. As many contracting roles do not require the candidate to be a 100 per cent fit – as long as they are flexible enough to adapt they may be lacking in other areas – it gives them an opportunity to attain and develop new skills along with gaining product knowledge.
It may also be that candidates, for one reason or another, find themselves no longer in permanent positions and are seeking a way back into the market, or they are career contractors who enjoy the flexibility and work/life balance that contracting affords.
Conclusion
Whatever their reasoning, as the perceptions surrounding contracting begin to improve on both candidate and employer sides, there is little doubt that it can be a mutually beneficial situation. And as long as the skills shortage continues to widen across Japan, and as the IT contracting sector continues to grow, contracting, particularly in the higher end of the recruitment market, may be the solution to the shortage question that over the past few years has been increasingly difficult to answer.
Now that would be news.
If you would like to discuss this report in more depth or you wish to discuss your job search or recruitment needs, please email the IT contracting team at Hays Japan:
• Michael Craven, Regional Director, at Michael.Craven@hays.co.jp
• Adam Sands, Key Account Sales Manager, at Adam.Sands@hays.co.jp
• Robert McIver, Account Manager, at Robert.McIver@hays.co.jp
• Kai Raphael Koenig, Key Account Manager, at KaiRaphael.Koenig@hays.co.jp
• Kar Hu, Key Account Manager, at Kar.Hu@hays.co.jp
• Jonathan Wale, Key Accounts - Sales Manager, at Jonathan.Wale@hays.co.jp
The Inside Story right promo block