4 lessons your business can learn from how Manchester City and New York City FC transfer their talent
4 lessons your business can learn from how Manchester City and New York City FC transfer their talent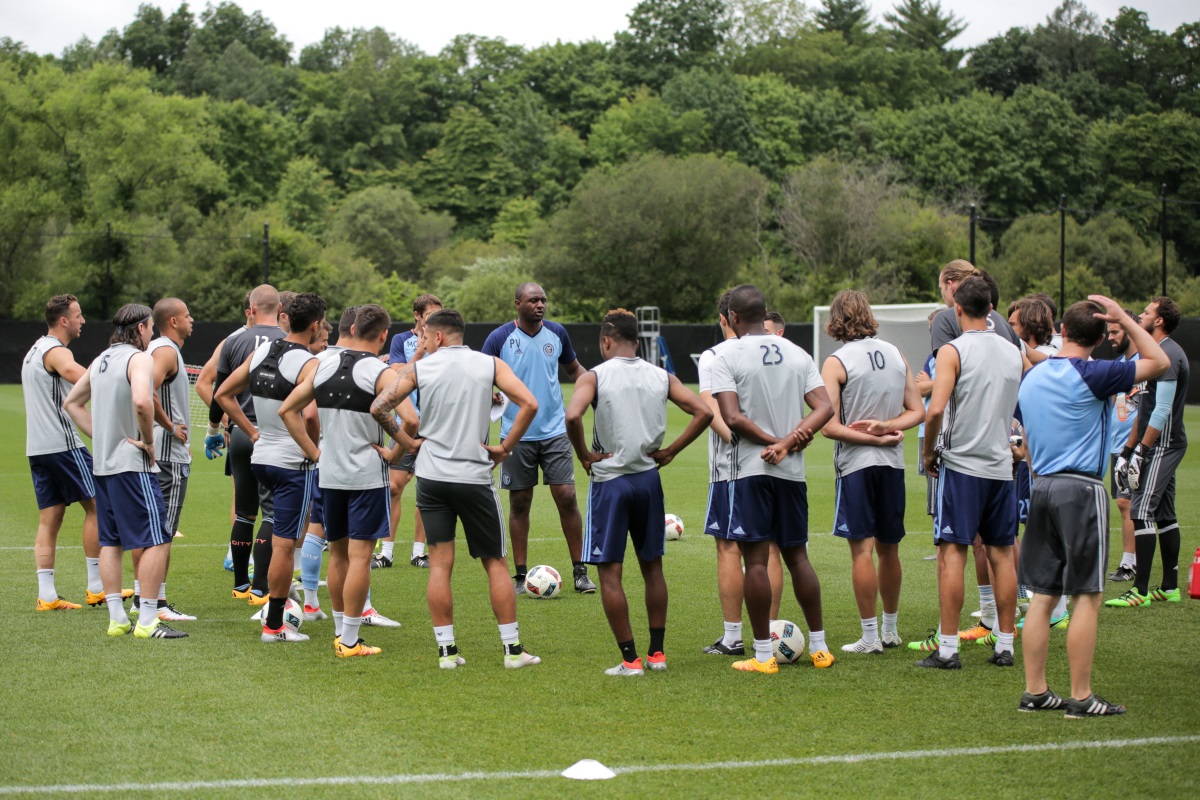 As Official Recruitment Partner of Manchester City and New York City FC, we look at why some of the moves between the connected clubs can offer lessons to businesses that aim to improve their talent using international mobility.
Patrick Vieira had a successful playing career, spanning 17 years, six clubs and three countries. He concluded his playing days with Manchester City in 2011. After retiring, he accepted a training and youth development role with the club, before becoming the reserve team Elite Development Squad Manager.
This year he has been appointed Head Coach of New York City FC, Manchester City's sister team, and has taken a team of staff from Manchester to support him.
Vieira and his team weren't the first to make their moves from Manchester to New York, with Manchester City Elite Development Squad players Shay Facey and Angelino enjoying loan spells at the Club in its first season. The same is true off the pitch, with communications, sales and marketing staff all benefiting from international transfers.
This trend is on the rise more generally, too. According to a recent PWC survey, the number of professional international work assignments is set to double by 2020. The critical need for companies to shore up skills in particular disciplines, regions and projects is creating a sea-change in this area. Businesses with a presence across multiple countries can benefit from this transfer of talent in four main ways:
1. Talented employees in the right place
As the Hays Global Skills Index has identified, there is a skills shortage in many of the world's largest economies. This means that many businesses have to look outside of their own country to source talent. Thankfully, just as in football, a more accessible world and an increasingly mobile workforce allows this.
Isobel Hannan, Head of Attraction and Mobility, Hays, explains: "There is a global shortage of skills affecting many industries and sectors, therefore it is increasingly important for organisations to look at global talent pools.

"This is a win-win situation, where employees get access to a broader range of opportunities and in many cases see their career accelerated through international experience. There are numerous benefits to the employer, including the acquisition of key expertise that may not be readily available locally."
2. Knowledge exchange
Businesses that embrace global mobility benefit from the exchange of expertise and knowledge between their different regional offices. Take Vieira's move to New York City FC as an example. It's worth remembering that New York City FC was only established 2013. His experiences in Manchester, and as part of the City Football Group family, mean he is in a unique position to promote its core values.
"Patrick has been a big part of City Football Group, both in Manchester and now in New York," says Tom Glick, Chief Commercial Officer of City Football Group and former President of New York City FC. "He understands the values which drive our Group, but also the importance of all our clubs having a strong and authentic local identity and relationship with our fans". Businesses can enjoy similar benefits by transferring their top talent abroad to countries where their expertise would be warmly received.
Many businesses also profit from sending their more junior employees abroad; offering global secondments in foreign offices, so that they can gain a more holistic view of how the business operates.
3. Greater diversity
If, like Manchester City, you have a global network, then you will of course also want a management team that reflects their diversity, and as such is able to meet the businesses varying needs. By having teams that are more diverse, you stand to benefit on a number of fronts.
Christine Wright, Managing Director of Hays Asia, asserts that "a diverse workforce can give an organisation huge creative potential, as our experiences influence the way we see a problem and the solution we come up with. In fact, the more diverse the team, the more ideas are usually put forward and the greater the chance is that you'll come up with the best possible outcome."
4. Increased loyalty
The more opportunities you provide your staff with, the more grateful and loyal they're likely to be. Moving up through an organisation is still the benchmark many workers measure their success by, so by providing them with the chance to up-skill themselves by relocating abroad, they are likely to feel a greater allegiance towards your business.
Hannan remarks: "Holding on to your best staff can be difficult enough. By mobilising existing staff to work in new countries, you can improve your retention while helping colleagues fulfil their ambitions."
Going global
While offering opportunities abroad is not possible for every company, embracing it is a fantastic way to develop talent while improving your business capabilities. Hays CEO Alistair Cox concludes: "Savvy employers can reap enormous benefits from (this) increasingly mobile and educated workforce. I've spent part of my own professional life working abroad and learned more from those periods than I can begin to describe."