Hays Japan Recognised as Best Large Recruitment Company To Work For 2018
Hays Japan Recognised as Best Large Recruitment Company To Work For 2018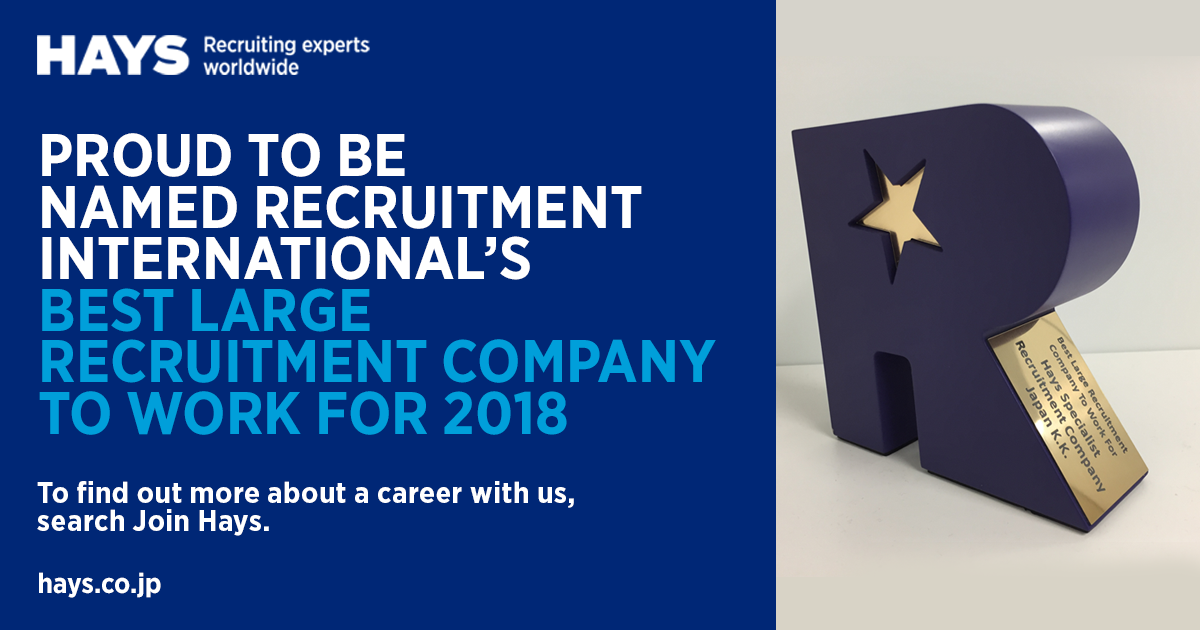 We're proud to announce that we were named Best Large Recruitment Company To Work For (75 + employees) at the 2018 Recruitment International Awards held on Friday, 29th June at the Tokyo American Club.
The RI awards celebrate the best of Japan's recruitment industry. The reasons why judges awarded us best in our field include but not limited to the following below.
We believe our preeminent success in today's dynamically changing world of work can be attributed to our primary focus and value to constantly innovate and utilise the latest emerging technologies. We consistently employ data science and artificial intelligence to equip our consultants the capability and expertise to unite jobs and people in an improved and quicker manner with increased productivity, which sets us apart from our competitors.
We have over 200 employees in Japan as of June 2018, an increase of 21% year-on-year while achieving an all-time record staff engagement score of 80%.
In FY18, 83 staff received a promotion, in which 34% were management promotions. Promotion at Hays is based on merit. We are committed to promoting from within and staff are set an individual plan for promotion at each stage of their career. We offer two equally important paths at Hays: managing people and managing business. Both are highly respected functions in our business and offer exceptional advancement and training & development opportunities.
Creating diverse culture is high on our strategic agenda and as of June 2018, we have 28 nationalities working in Hays Japan. This year we have had a variety of activities in celebrating and promoting a diverse culture, including Gender Diversity Survey and International Women's Day. We strive to support every employee to reach their career potential and are fostering an inclusive workplace, in which 50% of our people managers are women and 100% of our employees have returned from parental leave in the last 12 months on a flexible work arrangement.
Our Wellness@Hays initiate supports our staff to live well, work well, and be healthy. We have a high performance culture and we recognise the importance of our employees' wellbeing both physically and mentally.
We were awarded and recognised for ongoing commitment to service, expertise and quality, two years in a row by RI Asia. Specifically, we were named "The Banking Recruitment Company of the Year" in 2015, and "The Best RPO Provider of the Year" two years in a row in 2015 and 2016 at the Recruitment International Asia Awards ceremony.
We were also voted Best Finance & Accounting Recruiter in Asia for four consecutive years from 2012-2016. These awards are testament to our expertise in the accountancy and finance recruitment market and recognises our success in placing thousands of high-calibre candidates with businesses across Asia each year.
In other achievements, in June 2018 we reached 2.29 million LinkedIn followers. We have been accredited with the International Quality Standard ISO 9001:2015 across the operational markets in Asia. ISO (International Organization for Standardization) is the world's largest developer of voluntary International Standards, helping to make industry more efficient and effective. Hays is also the first international recruitment agency in Japan to be accredited with the official "Privacy Mark" system which is owned by the Japan Information Processing Development Corporation.
The result of these investments is a solid track record of success, which culminated in us being named Best Large Recruitment Company To Work For (75 + employees).