Behind Every Goal main region
Behind Every Goal

This four-part series is part of Hays' "Behind Every Goal" campaign, which looks at the goals that people work towards every day in their careers and the devotion it takes to reach them.
How do you continue to develop your own skills?
As the official recruitment partner of Manchester City Football Club, we spoke to players Lucy Bronze, Aymeric Laporte, Janine Beckie, Gabriel Jesus and Esme Morgan on the importance of adaptability when developing your skills.
MCFC - Behind Every Goal navi box
Hays and Manchester City promo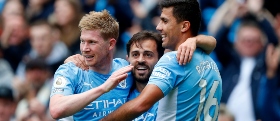 Hays and MCFC
Hays has been a proud sponsor of Manchester City since 2013, expanding the partnership to include their women's team in 2017.