Manchester City Football Club
Manchester City Football Club

Scouting for Talent
Like the recruitment experts at Hays, Manchester City specialises in spotting talent.
Recruitment is as crucial in sport as it is in business. Manchester City has won two Premier League titles in four seasons by building a team made up of top talent – both on and off the pitch. So how do they do it?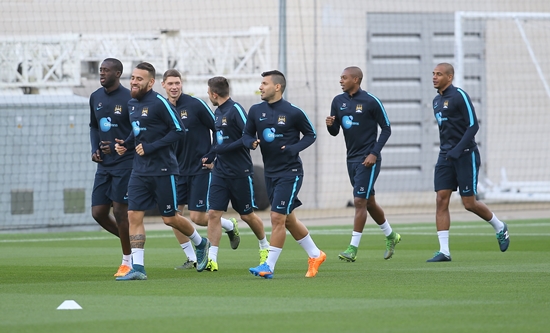 Simon Wilson, Director of Football Services for City Football Services, which is responsible for overseeing scouting and recruitment for Manchester City,
stresses that there's a lot more to recruitment than headline-making signings like the summer 2015 acquisition of 20-year-old England international Raheem Sterling for a record fee.
"It's important to have a global network of scouts who are looking not just for the best talent, but for the right players for our team and our style of play," Wilson explains. "This has to be supported by a team off the pitch who can create the best environment for our playing talent to succeed."
The players of the future
Manchester City was highly active in the most recent transfer window. But, like many businesses who prefer to promote homegrown talent from within the organisation, the club believes in nurturing the players of the future in its Academy.
"We have to strike the balance between ensuring we are always competitive and creating a pipeline of future talent," Wilson explains. "We know that spending large amounts in every transfer window is not sustainable, which is one reason we have such a strong focus on youth development. We have invested in our Academy so that, training alongside all levels of our Club, new young talent can grow up within our infrastructure, with the playing style, characteristics and values to succeed at the highest level."
A great example of this is George Evans, 20, who made his competitive debut against Sunderland in the Capital One Cup in September. Evans is a local boy with strong ties to the club through his father and grandfather. He joined the club at the age of six and has now represented Manchester City at every age group from the Under-8s through to the first team.
The right person in the right role
Of course, whether you're recruiting from outside or promoting from within, whether you're a football manager or an HR manager, an eye for talent is essential. But Wilson insists that it's not just about looking for the best players.
"To make it as a professional, young footballers need the right mentality, discipline and work ethic," he says. "Through our Academy, we want to develop the best footballers, but we also want to create rounded people who understand what it means to represent this Club and our community, and live and breathe the values it was founded on."
Unearthing great talent is always rewarding, but just as Manchester City's scouts won't approach a winger when they really need a goalkeeper, Hays' consultants know that every hire needs to be the right person in the right role.
A question of culture
Like businesses, football clubs have their own philosophy and culture, which will determine whether a player will be a good fit. Wilson explains that Manchester City has always been a community Club.
"We are passionate about creating a fantastic product on the pitch for our loyal fans to enjoy," he says. "We believe in attacking, possession-based football on the pitch. We also believe that translates off the pitch as well and we want to be seen by our fans as being engaged and connected with them."
Indeed, when we think of football, our minds immediately leap to the exciting action on the pitch. But, in the same way as a business wouldn't be able to run without the seamless support provided by its back-office staff, football clubs have an entire army of people working hard behind the scenes, from marketing and technology teams to fitness coaches and physiotherapists. Which is where Hays comes in.
"We can only deliver results on the pitch if we create the right environment off it," says Wilson. "Throughout our Club, the City family is full of people who understand and believe in what Manchester City has represented throughout our history. It's hugely important that we continue to attract the right people to roles across the Club, which is why it's great for us to be able to rely on a partner like Hays to help us discover those individuals."