Technology recruitment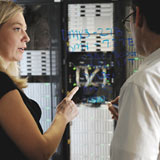 We are the experts in recruiting Technology professionals at the leading edge of Technology. Our deep expertise allows us to source talented professionals at all levels for the business, development and infrastructure markets.
As experts, our consultants understand the specifics of the industry and the application of technology within it. That's why, in Japan's constantly evolving Technology services industry, we'll deliver the people you need.
Our consultants would be delighted to discuss how we could help you find staff.