"THE WORLD IS GOING TO NEED TALENTED PEOPLE, THAT HASN'T CHANGED."
"THE WORLD IS GOING TO NEED TALENTED PEOPLE, THAT HASN'T CHANGED."

Alistair Cox, Cheif Executive Hays plc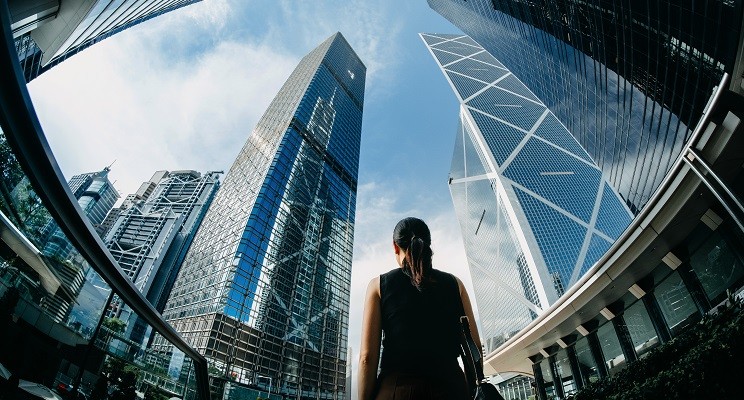 Nothing I could have learned at business school could have ever prepared me for the past four months. While these weeks have undoubtedly been some of the most challenging of my career, they have also been some of the most valuable in terms of lessons learned. This period of time will be ingrained in my mind forever more. I will never forget it, and nor should I.
The world will never be the same again, and neither will our businesses. A line in the sand has been drawn, and I firmly believe that as leaders, we must be hitting the 'reset' button if we are to survive and thrive in the new era of work.
So, I recently spoke to Adam Hawkins, Head of Search & Staffing at LinkedIn on how I've navigated my business through the crisis so far, what has guided my decisions, the lessons I've learnt and how I think the global talent landscape is shaping up.
First things first, what is top of mind for you right now, and how are you navigating your business through this crisis?
As a business, we've been through so many phases over the past few months. The initial stage was very much focused on looking at what was happening in China back at the turn of the year, asking ourselves whether the crisis was going to propagate around the world, and preparing for that eventuality. Then, we went into lockdown almost everywhere - with 11,500 people switching to work remotely from home, pretty much overnight. We had a number of priorities at that time: ensuring we were looking after the health and wellbeing of our people first and foremost, then their ability to keep working productively in this new remote world. At the same time, myself and our Group Finance Director were making sure we had a good handle on the economics of the business, from a P&L and cash standpoint - ensuring we were in a strong position to pull through whatever was coming.
During this time, things that we would never have thought possible in the past have become second nature. For example, people interviewing for new jobs, companies hiring new people, people resigning from one job and accepting another, people on-boarding on their first day – all done remotely. We would never have predicted that that's how the world might be as little as a few months ago.
Now, we're moving into the next phase. As government restrictions are eased in some countries and we're allowed to reopen our offices, we're thinking about what our protocol is going to be regarding moving back into those offices. We're currently adopting a very employee-led way of operating in relation to this. While many offices are technically allowed to open, we're leaving it to our employees themselves to decide how much time, if any, they want to spend in them – that's because it's a very individual thing at this stage as we make the first steps forward in this new phase.
People have very different needs and circumstances; some are missing their colleagues and friends, or they're finding working from home quite difficult, and are desperate to get back to the offices. Others are at the other end of the spectrum. Perhaps they are a vulnerable person, or they're caring for vulnerable people. Maybe they are, quite understandably, nervous about the journey to the office on public transport, and are not yet ready to come back into the office in any shape or form. We're literally, day-by-day, working through that and are adopting a hybrid approach – preparing our offices around the world to be safe environments for our people and welcoming those employees back into our offices who wish to attend, while giving people the flexibility to continue working from home some or all of the week if they wish.
Reflecting over the last few weeks, the decision to close an office completely and have everyone working from home was a relatively simple, overnight thing. While it required enormous planning and investment to be ready to do so, we flipped into that mode literally overnight for the entire business and it went incredibly well. But, arguably, it's much harder to plan the reopening than it is to plan the shutting.
Now, as I said, we're working in a hybrid way, which brings different challenges. For example, how do you operate productively and effectively and maintain your culture when you're not all sitting in the same room at the same time? That's the new thing we're working on and learning about every day.
I do feel that there's going to be some really profound lessons learnt from all of this. People need to take the opportunity to stand back and ask, "What do I do? How do I do it? Where do I do it? Who do I do it with – and how do we do it together?" We all need to reassess the entire operating models of our businesses. After all, we've been through the biggest social experiment in human history - so we need to ask ourselves what we've learnt from it, as businesses and as individuals, and how we'll move forward.
However, I do believe this new, hybrid, flexible way of working is here to stay - and that's a good thing. In fact, a key process that we're going to be going through shortly as a business, is to understand how we can take the best from both worlds – the 'in office world' and the 'remote working' world. After all, they've both got positives and negatives. I believe that if we can create an environment and culture that makes it easier for people to do their jobs in a way that makes sense for them, but also makes sense for us as a business, we'll become more attractive as an employer.
Living through something like this is not something that any of us have done before. As a CEO, where everyone is looking to you to make those big decisions, what has guided your decision making during this time and what lessons are you learning?
Over the past few months, I've personally learnt and experienced things that I never would have dreamt would happen in my working life - things that certainly aren't taught at business school, and things I've certainly not lived through before at any stage of my career. I guess we can take solace from the fact that we're not alone in that - every business around the world has been affected in some quite profound ways. We're all in this together – not just as businesses, or as business leaders, but as human beings. One of the big positives that has come out of this is that it's pulled people together and also strengthened and reinforced bonds that were already there.
When a massively destructive event like this happens, and people are worried, anxious and scared, they look upwards to the leader of the business for answers - answers we, as leaders, don't always have. But at times like these, there's no place to hide, you've got to be out there front and centre. The key is to maintain regular communication, and give direction in a way that is clear, honest, authentic and humble, to give people both guidance and reassurance, even when that reassurance might be difficult to give. Remember, this has never happened before in any of our lifetimes, so nobody in the world has got a rulebook on what to do. But leaders must reassure their people that they are going to work it out together.
I've also learned that as a leader, you need to be incredibly adaptable, and your business must be incredibly adaptable too. After all, profound decisions are being made over night by governments, which then consequently massively impacts what you do and how you do it. So, it's no use sticking to a strategy once you have the knowledge that the world has changed overnight. If the world changes, your business must change too.
Along this journey of adaptation, many challenges and difficult decisions have had to be made. In your question, you asked what has guided my decision making, and it's our company values that have been truly invaluable. We've been quite fortunate in that over the past years we've spent time constantly refining and refreshing our company values. One of them is "Do the right thing". This has been a powerful North Star in helping us make big business decisions. It allows us to step back under any circumstance, anywhere in the world, and ask ourselves what our moral compass is asking us to do. For example, do we need to invest in technology infrastructure in case our people need to work remotely? Yes, the right thing to do was to put that infrastructure in place, despite the cost. Should we take advantage of furlough schemes around the world? Yes, the right thing to do was to access them to help protect people's livelihoods. I'm not saying we get it right every time, there might have been decisions made that with hindsight we might have taken slightly differently – but, knowing what we knew at the time, we always tried to do the right thing and will continue to do so.
As I've told my executive board, when this is all over, we will be judged on how well our people think we supported them, and if we did things in the right way while being as open and transparent as possible. When this is all over, our people will judge us by whether we did the right things, knowing what we knew at the time.
These days, we have the option to customise and personalise everything in our personal lives, right down to the trainers we wear on our feet. Do you think we will now also start to expect the same level of personalisation in our professional lives? What implications will this have for businesses?
Yes, I do, and I think as part of that process it's important to open that dialogue with our people, whilst making it very clear what we expect from them and what we ultimately want to achieve as a business. After all, our people know what they want when it comes to personalising their working lives and gaining the flexibility they need, but that must work within our pre-requirements to run an effective business.
One of these 'must-have' requirements, for example, is that we need to facilitate our employee's lifelong learning, wherever they are based, and however they are working. We can learn by being in the classroom, but we also learn by watching someone who knows what they are doing, by simply sitting next to an expert who is a master of their craft – learning almost by osmosis. So, there's the pre-requirement, so how can we create an environment that trusts our people and creates this new 'contract'?
Like many businesses, as we're re-evaluating our employee experience, we're also having to think a lot about the kind of company we want to be in future – for example, what our office footprint is, what the point of our offices are, and how much office space we need. We used to go to the office to do our tasks. However if we can do our tasks just as well at the kitchen table, and we actually prefer it that way, then perhaps the role of the office is more about maintaining a sense of community?
At the end of the day, human beings are very sociable animals, and we do get something out of being together that is beyond simply doing our tasks. There's the spirit, the learning, the being part of a tribe; without it we can become lonely and cut off. We need to fundamentally reassess what the point of the office is, and once we know that, we need to decide how much 'office' we need.
Many futurists and industry commentators suggest that it's too early for us to really understand how the new era of work, post-pandemic, will operate. Do you agree?
I do. It's too early to design today what the longer-term solution will be. We're still riding that rollercoaster of emotions and there is a real spectrum in terms of how people are feeling. Some are euphoric at the prospect of returning to work because they've missed their colleagues, or they've been struggling to work effectively from home. Others feel they would prefer to stay at home but are perhaps feeling pressured that other people are going into the office and are worried about negative perceptions.
Therefore, I think it would be wrong to design what the long-term 'steady state' solution might look like while we're still riding this rollercoaster of emotions. After all, any of these feelings could change once things settle down and the reality of a new normal of working life sets in.
In three to four months, when we're settled in to whatever the new rhythm is, we'll be in a far better position to reflect and decide what our proposition will be in the new phase. As a business, we'll make some choices towards the back-end of this year, we'll see how it goes and be adaptable. If we decide some things aren't going well, then, we'll change them, or if we decide something is doing brilliantly, we'll do more of it. It's a long journey we're all on and we learn every step of the way.
You've got a global view of the talent landscape, what roles and skills are you seeing that are most in-demand by employers, and why?
There were already some acute skill shortages around the world, and, in many areas, this crisis has exacerbated that.
The whole world is shifting to a need to work remotely, potentially for the long-term, so there are massive technological requirements that come with that. The tech industry was already struggling to find enough skills and talent before the crisis, and that's only going to become more so in the future.
But it's not just about being able to work remotely, it's also about shifting your business online. The e-commerce revolution has only accelerated, which means there is a demand for those knowledgeable in digital strategy and operations. The dark side of that is, as everyone becomes more reliant on their systems, security becomes more important, so this is another skills area that is growing fast.
If you asked me whether we'd need more tech talent in the next five years, or less, I think we'll need much more. After all, it's not just technology companies that need to do it – every company in the world needs to think about their technology strategy now.
Over time I've seen IT, operations and marketing come together, which used to be quite distinct units, doing quite distinct things. Marketing today is full of digitally enabled experts analysing data and behaviour – that's a different sort of marketing talent than was required ten years ago. Operations are enabled by the digital strategy, and so on. These functions were coming together anyway, and the pandemic has only accelerated this. I think we're going to see a great blurring of roles and the Venn diagram of skillsets is about to become one great big overlapping series of subsets!
At Hays, a lot of the conversation is around, "What is the experience people are having of us?" and lining up the different departments and roles to make that experience unique and world-class. We are not alone, so there's now a great demand for re-inventers, Chief Experience Officers and the like that can help businesses implement new ways of working, going to market and organisational design to help them thrive post-pandemic. I think this is a journey, but businesses are fundamentally reinventing themselves, which will of course impact on role titles, skills and structures.
So, you agree with the quote "Change happens when the pain of staying the same is greater than the pain of change"?
Yes. I think many businesses have known what they have needed to do for a long time, but there was a lot of organisational and cultural resistance and internal challenges to overcome. Then this current crisis forced the change. Now, they're essentially rewriting the rulebook from scratch, and no one has one that we can copy, so we're going to have to make this up for ourselves. But we're going to do what needed doing, and we're going to do it at a pace and scale that was previously impossible.
I've seen a lot of people struggling with career confidence and many are perhaps feeling stunted in their careers. As the leader of one of the biggest catalysts for employment in the world, what advice do you have for those who might be experiencing this?
Understandably, many individuals may be now sitting in a role that they may have previously wanted to move on from, but following the health crisis, they're not only still there, but they're anxious about whether or not they're even still going to have a job at the end of all of this.
What I would say here, is that you may have hit the pause button in your life for a period of a few weeks or a few months, but you can't hit the stop button. People do need to re-engage and rebuild their confidence, and realise that there is a world out there, and that this isn't a dress rehearsal. They need to realise their full potential - and yes - they may have experienced a temporary delay in achieving it right now, but that doesn't mean that they won't in the future.
At Hays, we have a role in society to help people understand what their potential might be, and how they can get there. So, we've done a lot of work during this crisis to put services out into the marketplace to help people really understand what skills they'll need in order to move on in their careers – either with their existing company, or with a new employer. As part of that we've provided free access to training materials to help professionals learn those new skills and ultimately make themselves more marketable.
This world of lifelong learning is with us forever now. After all, if you study at university, and you go on to work a 40+ year career, you're going to become multiple things throughout that career that are probably going to be nothing to do with what you learnt in your initial studies at university or college. So, you're going to have to go through the process, all the time, of continually upskilling. That doesn't mean you need to go off and study for a degree every three years, it means that you're consistently committing to micro-learning. You must stay current.
My advice to people would be follow your dreams, don't hit the stop button. Reflect on what you want from your life and career, understand your potential and how you can realise that potential, decide what skills you need and then go out there and get them. The ability to learn the skills you need is out there, if you have the right approach.
I'd also recommend you talk to recruiters. We'll help you understand what employers are looking for, how your skills might stack up in a competitive market and how you may be able to improve.
The world is going to need talented people, that hasn't changed. The type of talent they need might have changed, but we've all got the ability to learn. So, figure out what it is you need to learn, and go and learn it.
I'd like to hear from other leaders on this. What lessons have you learnt personally? How are you planning for the post-pandemic world? Do you think the operational changes we've seen as a result of COVID-19 will be permanent? Please share your thoughts in the comments section below, or on LinkedIn with the #TalentVoices hashtag.
See the original blog post here.