企業がハイブリッドワークを真剣に検討すべき理由。採用活動へのメリットとは?
WHY COMPANIES MUST GET SERIOUS ABOUT HYBRID HIRING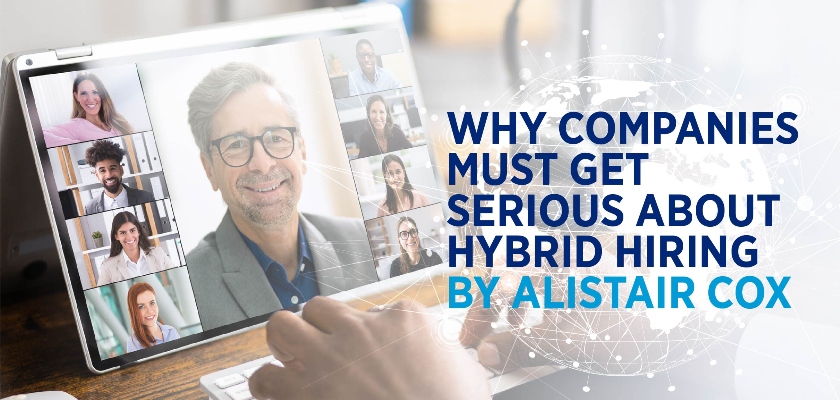 What we can be sure of is that we need to be agile enough to adapt to the ever-changing landscape in the world of work. The pandemic shifted work patterns overnight. Businesses had to change to ensure their workforce could operate effectively from home and a hybrid way of working has been the norm for many people over the best part of the last two years.
As well as hybrid working, hybrid hiring became a more considered option. Without the need for a 24-hour office, why would companies restrict their hiring to just the city, or even country, where they are based?
This means that companies are missing out on the benefits of hybrid hiring. But what are those advantages?
THE BENEFITS OF HYBRID HIRING
1. Retaining current and attracting new staff
The last two years have made many of us reassess what we want from life. Greater flexibility in our work lives is more important than ever. Having an employer that understands that is crucial.
The 2022 Hays UK Salary Guide found 65% of respondents would be tempted to move to a company with greater flexibility on working from home.
2. Broader talent pools
If hiring managers open the recruitment pool to beyond what they deem commutable distance to their office space, there is a potentially enormous number of workers that could bring real value to your business.
However, opening your recruitment search within your country borders rather than abroad alleviates some of those sticking points, whilst still be able to cast your hiring net further afield.
3. Increased diversity
The Hays report found that women were more adversely affected by the pandemic than men: "This is likely due to a number of factors, including female employment being more concentrated in worse-hit sectors, and women being more likely to take a greater role in childcare and caring for family members, meaning they were more likely to exit the labour market during the crisis."
Whilst there are many factors contributing to the above, hybrid hiring and working can help. What may seem like a simple commute to an office for some, can be highly challenging for others. A hybrid approach can play some part in levelling the playing field.
A hybrid model of hiring and working in general removes some of the pressure on those to commute, to consider childcare, or to think about the school run, whilst improving your company's diversity. After all, diversity strengthens companies and cultures and, as leaders, we should be playing an active role in supporting groups who face barriers to succeed in their careers. In doing so, we are helping build a better world of work.
WHAT ARE YOU WAITING FOR?
The benefits of hybrid hiring could not be clearer. But are we honestly doing enough to create a successful model that will improve our businesses and the working experience for our employees?
As we enter a new year, it is clear that 2022 will be full of challenges. But they are challenges we can overcome if we do not slip into old habits, but instead embrace change. Hybrid hiring has the potential to improve the future of work.
I hope you found this blog useful. For more career advice, take a look at these Hays blogs:
Alistair has been the CEO of Hays, plc since Sept. 2007. An aeronautical engineer by training (University of Salford, UK, 1982), Alistair commenced his career at British Aerospace in the military aircraft division. From 1983-1988, he worked Schlumberger filling a number of field and research roles in the Oil & Gas Industry in both Europe and North America. He completed his MBA (Stanford University, California) in 1991 and returned to the UK as a consultant for McKinsey & Co. His experience at McKinsey & Co covered a number of sectors including energy, consumer goods and manufacturing.
He moved to Blue Circle Industries in 1994 as Group Strategy Director, responsible for all aspects of strategic planning and international investments for the group. During this time, Blue Circle re-focused its business upon heavy building material in a number of new markets and in 1998, Alistair assumed the role of Regional Director responsible for Blue Circle's operations in Asia, based in Kuala Lumpur in Malaysia. He was responsible for businesses in Malaysia, Singapore, the Philippines, Indonesia and Vietnam. Subsequent to the acquisition of Blue Circle by Lafarge in 2001, he also assumed responsibility for Lafarge's operations in the region as Regional President for Asia.
In 2002, Alistair returned to the UK as CEO of Xansa, a UK based IT services and back-office processing organisation. During his 5 year tenure at Xansa, he re-focused the organisation to create a UK leading provider of back-office services across both the Public and Private sector and built one of the strongest offshore operations in the sector with over 6,000 people based in India.